Fleck Bypass Valves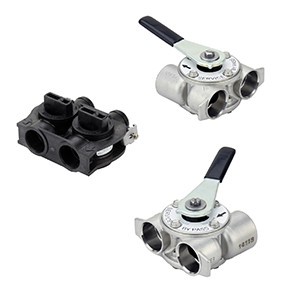 Solid lead-free brass*, fiber-reinforced polymer or stainless steel bypass valve construction. Simple operation for long life, dependability for ease of operation. Quick connect attachment to most residential Fleck valve bodies makes installation and removal fast and easy.

*As defined in the U.S. EPA Safe Drinking Water Act; the product also meets California Proposition 65 Standards for lead-free brass.
This product is manufactured in the United States of foreign and domestic parts.