Fleck Fiber-Reinforced Polymer and Brass Meters
Fleck Fiber-Reinforced Polymer and Brass Meters
Fleck Fiber-Reinforced Polymer and Brass Meters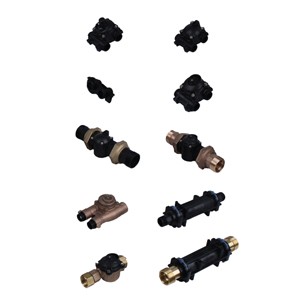 Pentair Fleck provides a high-efficiency method of monitoring water usage and initiating timely regenerations; resulting in salt, water and energy savings. Meters range in size from 3/4" - 2" and are designed to fit commercial, industrial, and large-volume residential applications.
This product is manufactured in the United States of foreign and domestic parts.

Features and Benefits
Multiple applications
Meters can be used with single and multi-tank systems, and virtually any system can enjoy the benefits from regenerations based on water usage
Long-Lasting

Simple and reliable design has meter impeller (turbine or paddle wheel) as the only in-stream moving part
Reliability
Mechanical meters record water usage even during power outages
Convenience
Select meters include unions for easier maintenance
Durable Materials
Meter bodies are manufactured with fiber-reinforced polymer or lead-free brass* to provide dependable service
Flexibility
Electromechanical types are available in standard and extended ranges for accurate monitoring in a broad range of hardness conditions
*As defined in the U.S. EPA Safe Drinking Water Act; the product also meets California Proposition 65 Standards for lead-free brass.