Pentair Hypro 9910-D252 Series Diaphragm Pumps
Main Content Starts Here
Pentair Hypro 9910-D252 Series Diaphragm Pumps
Pentair Hypro 9910-D252 Series Diaphragm Pumps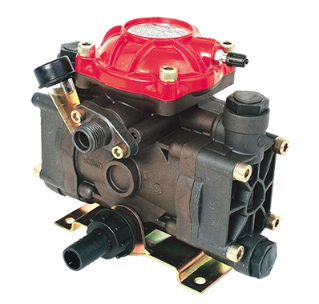 This product has been discontinued and replaced by Pentair Hypro Medium Operating Poly Pressure Diaphragm Pumps.
The Hypro 9910-D252 Series diaphragm, medium pressure, anodized aluminum pumps achieve up to 6.5 gpm (24.6 lpm) and 290 psi (20 bar).
Pentair Hypro medium pressure diaphragm pumps can be adapted for male 1-3/8" splined shaft, female 1-3/8" splined shaft, 1" solid shaft, or gear reduction drive options.
Specifications
Housings:
Anodized aluminum
Diaphragm:
2, semi-hydraulic
Control Unit:
9910-KIT1990
Max Fluid Temperature:
140°F/60°C
| Item # | Max GPM | Max LPM | Max PSI | Max BAR | Max RPM | Shaft Output | WEIGHT | Ports |
| --- | --- | --- | --- | --- | --- | --- | --- | --- |
| 9910-D252 | 6.5 | 24.6 | 290 | 20 | 650 | 3/4" solid keyed shaft | 12 lbs./5.4 kg | 3⁄4" HB inlet, 1⁄2" HB outlet |
| 9910-D252GRGI | 6.5 | 24.6 | 290 | 20 | 3600 | 3/4" hollow shaft | 14 lbs./6.4 kg | 3⁄4" HB inlet, 3⁄8" HB outlet |
| 9910-D252GRGI58 | 5.5 | 20.8 | 290 | 20 | 3600 | 5/8" hollow shaft | 14 lbs./6.4 kg | 3⁄4" HB inlet, 3⁄8" HB outlet |
| 9910-D252GRGIAP | 6.5 | 24.6 | 290 | 20 | 3600 | 3⁄4" hollow input shaft with 5⁄8" output solid shaft | 14 lbs./6.4 kg | 3⁄4" HB inlet, 3⁄8" HB outlet |
| Item # | Max GPM | Max LPM | Max PSI | Max BAR | Max RPM | Shaft Output | WEIGHT | Ports |
| --- | --- | --- | --- | --- | --- | --- | --- | --- |
| 9910-D252 | 6.5 | 24.6 | 290 | 20 | 650 | 3/4" solid keyed shaft | 12 lbs./5.4 kg | 3⁄4" HB inlet, 1⁄2" HB outlet |
| 9910-D252GRGI | 6.5 | 24.6 | 290 | 20 | 3600 | 3/4" hollow shaft | 14 lbs./6.4 kg | 3⁄4" HB inlet, 3⁄8" HB outlet |
| 9910-D252GRGI58 | 5.5 | 20.8 | 290 | 20 | 3600 | 5/8" hollow shaft | 14 lbs./6.4 kg | 3⁄4" HB inlet, 3⁄8" HB outlet |
| 9910-D252GRGIAP | 6.5 | 24.6 | 290 | 20 | 3600 | 3⁄4" hollow input shaft with 5⁄8" output solid shaft | 14 lbs./6.4 kg | 3⁄4" HB inlet, 3⁄8" HB outlet |