Pentair Hypro 9910-D30 Series Diaphragm Pumps
Main Content Starts Here
Pentair Hypro 9910-D30 Series Diaphragm Pumps
Pentair Hypro 9910-D30 Series Diaphragm Pumps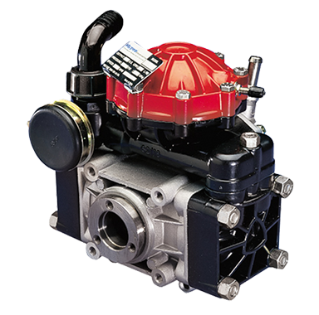 This product has been discontinued and replaced by Pentair Hypro Medium Operating Poly Pressure Diaphragm Pumps.
The Hypro 9910-D30 Series diaphragm, medium pressure, epoxy-coated pumps achieve up to 9.6 gpm (36.3 lpm) and 580 psi (40 bar). Pressure and output are designed for optimum performance of small to medium-sized sprayers.
Pentair Hypro medium pressure diaphragm pumps can be adapted for male 1-3/8" splined shaft, female 1-3/8" splined shaft, 1" solid shaft, or gear reduction drive options.
Specifications
Housing Components For Liquid Handling:
Epoxy-coated
Diaphragm:
2, Semi-Hydraulic
Pump Shaft Rotation:
CW and CCW
Max Fluid Temperature:
140°F/60°C
| Item # | Max GPM | Max LPM | Max PSI | Max BAR | Max RPM | Shaft | Drive | Control Unit | Ports |
| --- | --- | --- | --- | --- | --- | --- | --- | --- | --- |
| 9910-D030 | 9.6 | 36.3 | 580 | 40 | 550 | Flanged for shaft kit | - | - | 1" HB inlet, 1⁄2" HB outlet |
| 9910-D30AP-A | 9.6 | 36.3 | 580 | 40 | 550 | Flanged w/ 3⁄4" shaft ext. | - | - | 1" HB inlet, 1⁄2" HB outlet |
| 9910-D30GRGI | 9.6 | 36.3 | 580 | 40 | 3600 | 3⁄4" hollow shaft for gas engine mount (D30GRGI) | For mounting on 5 hp gas engine | 9910-GS40GI | Assembled with gearbox 9910-KIT1640 and control 9910-GS40GI for mounting on 5 hp gas engine |
| 9910-D30-B-GRGI | 9.6 | 36.3 | 580 | 40 | 3600 | 3⁄4" hollow shaft for gas engine mount | For mounting on 5 hp gas engine | 9910-GS40GI | Assembled with gearbox 9910-KIT1640 and control 9910-GS40GI for mounting on 5 hp gas engine |
| D30HRGI | 9.6 | 36.3 | 580 | 40 | 3600 | 3⁄4" hollow shaft for gas engine mount | For mounting on 5 hp gas engine | 9910-GS40GI | Assembled with gearbox 8000-0056 and control 9910-GS40GI for mounting on 5 hp gas engine |
| Item # | Max GPM | Max LPM | Max PSI | Max BAR | Max RPM | Shaft | Drive | Control Unit | Ports |
| --- | --- | --- | --- | --- | --- | --- | --- | --- | --- |
| 9910-D030 | 9.6 | 36.3 | 580 | 40 | 550 | Flanged for shaft kit | - | - | 1" HB inlet, 1⁄2" HB outlet |
| 9910-D30AP-A | 9.6 | 36.3 | 580 | 40 | 550 | Flanged w/ 3⁄4" shaft ext. | - | - | 1" HB inlet, 1⁄2" HB outlet |
| 9910-D30GRGI | 9.6 | 36.3 | 580 | 40 | 3600 | 3⁄4" hollow shaft for gas engine mount (D30GRGI) | For mounting on 5 hp gas engine | 9910-GS40GI | Assembled with gearbox 9910-KIT1640 and control 9910-GS40GI for mounting on 5 hp gas engine |
| 9910-D30-B-GRGI | 9.6 | 36.3 | 580 | 40 | 3600 | 3⁄4" hollow shaft for gas engine mount | For mounting on 5 hp gas engine | 9910-GS40GI | Assembled with gearbox 9910-KIT1640 and control 9910-GS40GI for mounting on 5 hp gas engine |
| D30HRGI | 9.6 | 36.3 | 580 | 40 | 3600 | 3⁄4" hollow shaft for gas engine mount | For mounting on 5 hp gas engine | 9910-GS40GI | Assembled with gearbox 8000-0056 and control 9910-GS40GI for mounting on 5 hp gas engine |