Everpure H-1200 Filter Cartridge
Everpure H-1200 Filter Cartridge
Everpure H-1200 Filter Cartridge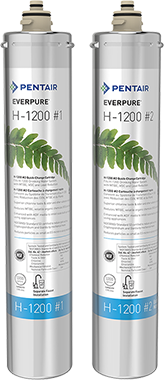 Fits the H-1200 Drinking Water System.
Replace both the H-1200 cartridges (EV9282-00) annually.
Bottle Water Equivalent - 7,573
Capacity - 3,780 Litres
Separate faucet installation
Reduces
Lead
Chlorine Taste and Odor
VOC - Volatile Organic Compounds include components of gasoline and industrial cleaners, which can cause many illnesses
Cysts - NSF/ANSI standard 53 certified to reduce cysts such asCryptosporidium and Giardia by mechanical means
MTBE - Methyl tert-butyl ether (MTBE) is a gasoline additive.
Features and Benefits
Treated to inhibit biofilm and microbial build-up in the filter that can decrease product life
A 1/2 gallon per minute flow rate
A 1000-gallon capacity
EPA Est. Number 002623-IL-002

Specifications
Temperature (Max):
100 °F
| Item # | Description | Flow Rate | Capacity | Substance Reductions Claims |
| --- | --- | --- | --- | --- |
| EV928201 | H-1200 REPLACEMENT CARTRIDGE, 1 SET | 0.5 gpm | 1000 gal | Chloramine, Giardia/Cryptosporidium Cyst, Lead, VOC, Sediment, MTBE |
| EV928203 | H-1200 REPLACEMENT CARTRIDGE, 3 SETS | 0.5 gpm | 1000 gal | Chloramine, Giardia/Cryptosporidium Cyst, Lead, VOC, Sediment, MTBE |
| Item # | Description | Flow Rate | Capacity | Substance Reductions Claims |
| --- | --- | --- | --- | --- |
| EV928201 | H-1200 REPLACEMENT CARTRIDGE, 1 SET | 0.5 gpm | 1000 gal | Chloramine, Giardia/Cryptosporidium Cyst, Lead, VOC, Sediment, MTBE |
| EV928203 | H-1200 REPLACEMENT CARTRIDGE, 3 SETS | 0.5 gpm | 1000 gal | Chloramine, Giardia/Cryptosporidium Cyst, Lead, VOC, Sediment, MTBE |