Everpure CTS-H54 Countertop System
Everpure CTS-H54 Countertop System
Everpure CTS-H54 Countertop System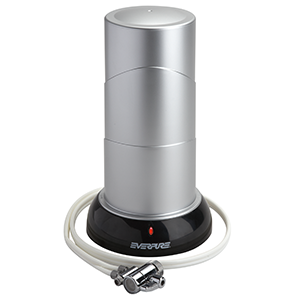 This countertop system delivers premium quality, great tasting water while taking up less counter space than most coffee makers.
Features and Benefits
Portable design – take it anywhere
No plumbing installation required
Finely polishes treated water to premium quality for drinking and cooking
Reduces chlorine taste and odor
Reduces dirt, rust, and other particulates including sulfides (oxidized iron and manganese)
Adsorbs common earthy, moldy, fishy tastes and odors
Reduces lead to below the Federal Action Level
Inhibits limescale build-up in water-using appliances
Applications
Residential
Condominium
Apartment
Dorm room
Recreational vehicle
Boat
Reduces these contaminants:
Lead
NSF/ANSI Standard 53 certified to reduce cysts such as Cryptosporidium and Giardia by mechanical means.
Precipitated lead
And these substances:
Chlorine taste and odor
Dirt and cloudiness
Mold and algae
Oxidized iron
Oxidized manganese
Oxidized sulfides
Reduces particles as small as 0.5 micron in size by mechanical means.
EPA Est. Number 002623-IL-002