Pentair Comptec RT Series
Pentair Comptec RT Series
Pentair Comptec RT Series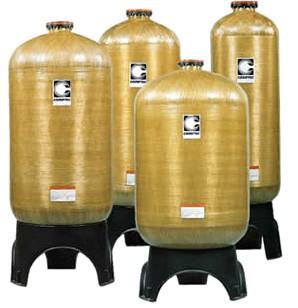 Comptec tanks provide maximum performance when high volume water storage or high system pressures are needed. Our Comptec Composite tanks are as "strong" as steel with half the weight. Comptec products range in size from 15-gallon to 450-gallon capacity.
Can be manifolded for additional capacity.
Large acceptance volume helps pump meet peak demands.
Polyethylene inner shell immune to many corrosive chemicals.
Provides chemical contact time for commercial, industrial and municipal water treatment applications.

CompTec RT Series Features & Benefits
Specifications
MAXIMUM OPERATING PRESSURE:
150 psig / 10 bar
Maximum Temperature:
120°F / 50°C
| Item # | CAPACITY | DIAMETER INCH CM | OVERALL HEIGHT INCH CM | HEIGHT INLET OUTLET TO FLOOR | CONNECTIONS | ASSEMBLY WEIGHT |
| --- | --- | --- | --- | --- | --- | --- |
| RT-120F | 120 / 454 | 24 / 61 | 89 / 226 | 9 / 23 | 2" NPT | 285 / 129.3 |
| RT-185F | 185 / 700 | 30 / 76 | 87 / 221 | 6 1/2 / 17 | 2" NPT | 383 / 173.7 |
| RT-245F | 245 / 927 | 36 / 91 | 89 / 226 | 8 / 20 | 3" NPT | 466 / 211.4 |
| RT-340F | 340 / 1287 | 42 / 107 | 86 / 218 | 8 / 20 | 3" NPT | 682 / 309.4 |
| RT-460F | 460 / 1741 | 48 / 122 | 91 / 231 | 8 1/2 / 22 | 3" NPT | 750 / 340.2 |
| Item # | CAPACITY | DIAMETER INCH CM | OVERALL HEIGHT INCH CM | HEIGHT INLET OUTLET TO FLOOR | CONNECTIONS | ASSEMBLY WEIGHT |
| --- | --- | --- | --- | --- | --- | --- |
| RT-120F | 120 / 454 | 24 / 61 | 89 / 226 | 9 / 23 | 2" NPT | 285 / 129.3 |
| RT-185F | 185 / 700 | 30 / 76 | 87 / 221 | 6 1/2 / 17 | 2" NPT | 383 / 173.7 |
| RT-245F | 245 / 927 | 36 / 91 | 89 / 226 | 8 / 20 | 3" NPT | 466 / 211.4 |
| RT-340F | 340 / 1287 | 42 / 107 | 86 / 218 | 8 / 20 | 3" NPT | 682 / 309.4 |
| RT-460F | 460 / 1741 | 48 / 122 | 91 / 231 | 8 1/2 / 22 | 3" NPT | 750 / 340.2 |