Fleck 2510 Electromechanical Softener Time Clock
Fleck 2510 Electromechanical Softener Time Clock
Fleck 2510 Electromechanical Softener Time Clock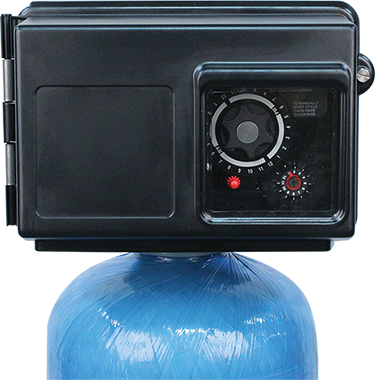 3/4" Control valve fiber-reinforced polymer valve body for superior strength and durability, non-corrosive, and UV-resistant.

Simple to adjust and easy to service with quick access to all internal components
Electromechanical 7- or 12-day time clock, meter delayed, or meter immediate regeneration
Electromechanical timer auxiliary switch
Fiber-reinforced polymer or stainless steel bypass valve
Specifications
Continuous Flow Rate @ 15 psi drop:
19 gpm
Max. Backwash flow @ 25 psi drop:
17 gpm
Inlet Outlet Connection Type - Valves:
NPT, BSP, SWEAT
Inlet Outlet Size - Valves:
3/4", 1", 1-1/4"
Valve Application:
Filter, Water Softener
| Item # | Description |
| --- | --- |
| 251001-002 | Time Clock, 12 day, Downflow Softener, 120V/60Hz, U.S. Power Cord, Hardwater Bypass, 1650 Brine Valve, #1 injector, 0.50 GPM BLFC, Environmental Backplate |
| 251001-006 | Time Clock, 12 day, Downflow Softener, 120V/60Hz, U.S. Power Cord, Hardwater Bypass, 1650 Brine Valve, #1 injector, 0.50 GPM BLFC, Designer Backplate |
| 251001-007 | Time Clock, 12 day, Downflow Softener, 120V/60Hz, U.S. Power Cord, Hardwater Bypass, 1600 Brine Valve, #1 injector, 0.50 GPM BLFC, Environmental Backplate |
| 251001-010 | Time Clock, 12 day, Downflow Softener, 120V/60Hz, U.S. Power Cord, Hardwater Bypass, 1650 Brine Valve, #2 injector, 0.50 GPM BLFC, Environmental Backplate |
| 251001-011 | Time Clock, 12 day, Downflow Softener, 120V/60Hz, U.S. Power Cord, Hardwater Bypass, 1650 Brine Valve, #2 injector, Blank BLFC, Environmental Backplate |
| Item # | Description |
| --- | --- |
| 251001-002 | Time Clock, 12 day, Downflow Softener, 120V/60Hz, U.S. Power Cord, Hardwater Bypass, 1650 Brine Valve, #1 injector, 0.50 GPM BLFC, Environmental Backplate |
| 251001-006 | Time Clock, 12 day, Downflow Softener, 120V/60Hz, U.S. Power Cord, Hardwater Bypass, 1650 Brine Valve, #1 injector, 0.50 GPM BLFC, Designer Backplate |
| 251001-007 | Time Clock, 12 day, Downflow Softener, 120V/60Hz, U.S. Power Cord, Hardwater Bypass, 1600 Brine Valve, #1 injector, 0.50 GPM BLFC, Environmental Backplate |
| 251001-010 | Time Clock, 12 day, Downflow Softener, 120V/60Hz, U.S. Power Cord, Hardwater Bypass, 1650 Brine Valve, #2 injector, 0.50 GPM BLFC, Environmental Backplate |
| 251001-011 | Time Clock, 12 day, Downflow Softener, 120V/60Hz, U.S. Power Cord, Hardwater Bypass, 1650 Brine Valve, #2 injector, Blank BLFC, Environmental Backplate |