Fleck 2510 SXT Valve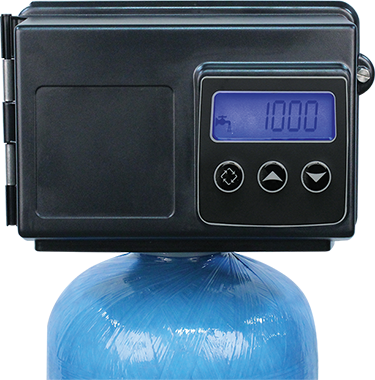 3/4" Control valve fiber-reinforced polymer valve body for superior strength and durability, non-corrosive, and UV-resistant.

Large LCD display and user-selectable time clock or metered function; usable for filtration and softener systems
Fiber-reinforced polymer or stainless steel bypass valve
Filter or softener control valves
Specifications
Continuous Flow Rate @ 15 psi drop:
19 gpm
Max. Backwash flow @ 25 psi drop:
17 gpm
Inlet Outlet Connection Type - Valves:
NPT, BSP, SWEAT
Inlet Outlet Size - Valves:
3/4", 1", 1-1/4"
Valve Application:
Filter, Water Softener
| Item # | Description |
| --- | --- |
| 251006-001 | Time Clock, Downflow Softener, U.S. Transformer, Hardwater Bypass, 1650 Brine Valve, #2 Injector, Blank BLFC, Environmental Backplate |
| 251006-002 | Turbine Meter, Downflow Softener, U.S. Transformer, Hardwater Bypass, 1600 Brine Valve, #1 Injector, 0.25 GPM BLFC, Environmental Backplate |
| 251006-003 | Time Clock, Downflow B/W Filter, U.S. Transformer, Hardwater Bypass, Environmental Backplate |
| 251006-004 | Turbine Meter, Downflow Softener, U.S. Transformer, Hardwater Bypass, 1650 Brine Valve, #1 injector, 0.50 GPM BLFC, Environmental Backplate |
| 251006-005 | Paddle Wheel Meter, Downflow Softener, U.S. Transformer, Hardwater Bypass, 1650 Brine Valve, #1 injector, 0.50 GPM BLFC, Environmental Backplate |
| 251006-006 | Paddle Wheel Meter, Downflow Softener, U.S. Transformer, Hardwater Bypass, 1600 Brine Valve, #1 injector, 0.50 GPM BLFC, Environmental Backplate |
| Item # | Description |
| --- | --- |
| 251006-001 | Time Clock, Downflow Softener, U.S. Transformer, Hardwater Bypass, 1650 Brine Valve, #2 Injector, Blank BLFC, Environmental Backplate |
| 251006-002 | Turbine Meter, Downflow Softener, U.S. Transformer, Hardwater Bypass, 1600 Brine Valve, #1 Injector, 0.25 GPM BLFC, Environmental Backplate |
| 251006-003 | Time Clock, Downflow B/W Filter, U.S. Transformer, Hardwater Bypass, Environmental Backplate |
| 251006-004 | Turbine Meter, Downflow Softener, U.S. Transformer, Hardwater Bypass, 1650 Brine Valve, #1 injector, 0.50 GPM BLFC, Environmental Backplate |
| 251006-005 | Paddle Wheel Meter, Downflow Softener, U.S. Transformer, Hardwater Bypass, 1650 Brine Valve, #1 injector, 0.50 GPM BLFC, Environmental Backplate |
| 251006-006 | Paddle Wheel Meter, Downflow Softener, U.S. Transformer, Hardwater Bypass, 1600 Brine Valve, #1 injector, 0.50 GPM BLFC, Environmental Backplate |