Fleck 5600 Electromechanical Softener Time Clock
Fleck 5600 Electromechanical Softener Time Clock
Fleck 5600 Electromechanical Softener Time Clock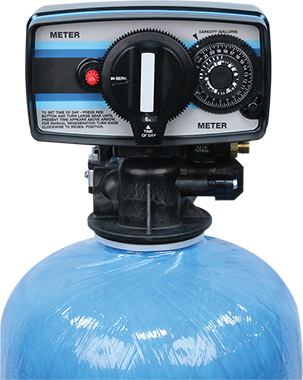 3/4" Control valve fiber-reinforced polymer valve body for superior strength and durability, non-corrosive, and UV-resistant.
Simple to adjust and easy to service with quick access to all internal components
Rugged-built electromechanical timer designed with heavy duty 3/8" wide plastic gears
Designed with double backwash for reduced hardness leakage
Specifications
Continuous Flow Rate @ 15 psi drop:
20 gpm
Max. Backwash flow @ 25 psi drop:
7 gpm
Inlet Outlet Connection Type - Valves:
NPT, BSP, SWEAT
Inlet Outlet Size - Valves:
3/4", 1"
Valve Application:
Filter, Water Softener
| Item # | Description |
| --- | --- |
| 560001-003 | Time Clock, 12 day, Downflow Softener, 120V/60Hz, U.S. Power Cord, Softener Bypass Piston, #1 Injector, 0.50 GPM BLFC, Enclosed Housing, Silver/Blue Label |
| 560001-004 | Time Clock, 12 day, Downflow Softener, 24V/60Hz, Less Transformer, Softener Bypass Piston, #1 Injector, 0.25 GPM BLFC, Enclosed Housing, Silver/Blue Label |
| 560001-005 | Time Clock, 12 day, Downflow Softener, 120V/60Hz, U.S. Power Cord, Softener Bypass Piston, #1 Injector, 0.50 GPM BLFC, L-Style Housing, Silver/Black Label |
| 560001-006 | Time Clock, 12 day, Downflow Softener, 24V/60Hz, Less Transformer, Softener Bypass Piston, #1 Injector, 0.50 GPM BLFC, L-Style Housing, Silver/Black Label |
| 560001-007 | Time Clock, 12 day, Downflow Softener, 120V/60Hz, U.S. Power Cord, Softener Bypass Piston, #1 Injector, 0.50 GPM BLFC, Enclosed Housing, Tan Label |
| 560001-009 | Time Clock, 12 day, Downflow Softener, 120V/60Hz, U.S. Power Cord, Softener Bypass Piston, #1 Injector, 0.50 GPM BLFC, L-Style Housing, Tan label |
| 560001-013 | Time Clock, 12 day, Downflow Softener, 110V/60Hz, Japanese Cord, Softener Bypass Piston, #1 Injector, 0.25 GPM BLFC, Enclosed Housing, Silver/Blue Label |
| 560001-021 | Time Clock, 12 day, Downflow Softener, 120V/60Hz, U.S. Power Cord, Softener Bypass Piston, #1 Injector, 0.25 GPM BLFC, Enclosed Housing, Silver/Blue Label |
| 560001-022 | Time Clock, 12 day, Downflow Softener, 120V/60Hz, U.S. Power Cord, Softener Bypass Piston, #1 Injector, 0.25 GPM BLFC, L-Style Housing, Silver/Black Label |
| 560001-024 | Time Clock, 12 day, Downflow Softener, 24V/60Hz, Less Transformer, Low Water Bypass Piston, #1 Injector, 0.25 GPM BLFC, Enclosed Housing, Silver/Blue Label |
| Item # | Description |
| --- | --- |
| 560001-003 | Time Clock, 12 day, Downflow Softener, 120V/60Hz, U.S. Power Cord, Softener Bypass Piston, #1 Injector, 0.50 GPM BLFC, Enclosed Housing, Silver/Blue Label |
| 560001-004 | Time Clock, 12 day, Downflow Softener, 24V/60Hz, Less Transformer, Softener Bypass Piston, #1 Injector, 0.25 GPM BLFC, Enclosed Housing, Silver/Blue Label |
| 560001-005 | Time Clock, 12 day, Downflow Softener, 120V/60Hz, U.S. Power Cord, Softener Bypass Piston, #1 Injector, 0.50 GPM BLFC, L-Style Housing, Silver/Black Label |
| 560001-006 | Time Clock, 12 day, Downflow Softener, 24V/60Hz, Less Transformer, Softener Bypass Piston, #1 Injector, 0.50 GPM BLFC, L-Style Housing, Silver/Black Label |
| 560001-007 | Time Clock, 12 day, Downflow Softener, 120V/60Hz, U.S. Power Cord, Softener Bypass Piston, #1 Injector, 0.50 GPM BLFC, Enclosed Housing, Tan Label |
| 560001-009 | Time Clock, 12 day, Downflow Softener, 120V/60Hz, U.S. Power Cord, Softener Bypass Piston, #1 Injector, 0.50 GPM BLFC, L-Style Housing, Tan label |
| 560001-013 | Time Clock, 12 day, Downflow Softener, 110V/60Hz, Japanese Cord, Softener Bypass Piston, #1 Injector, 0.25 GPM BLFC, Enclosed Housing, Silver/Blue Label |
| 560001-021 | Time Clock, 12 day, Downflow Softener, 120V/60Hz, U.S. Power Cord, Softener Bypass Piston, #1 Injector, 0.25 GPM BLFC, Enclosed Housing, Silver/Blue Label |
| 560001-022 | Time Clock, 12 day, Downflow Softener, 120V/60Hz, U.S. Power Cord, Softener Bypass Piston, #1 Injector, 0.25 GPM BLFC, L-Style Housing, Silver/Black Label |
| 560001-024 | Time Clock, 12 day, Downflow Softener, 24V/60Hz, Less Transformer, Low Water Bypass Piston, #1 Injector, 0.25 GPM BLFC, Enclosed Housing, Silver/Blue Label |