Fleck 56SXT Softener Meter
Fleck 56SXT Softener Meter
Fleck 56SXT Softener Meter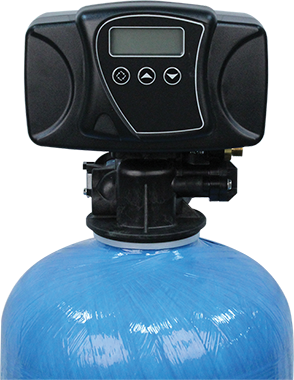 3/4" Control valve, fiber-reinforced polymer valve body for superior strength and durability, non-corrosive, and UV-resistant.
LCD display alternates between time of day, volume remaining or days till regen, and tank in service
Programming and time stored in memory and will not be lost due to power outages 
Diagnostics for historical valve performance
Programmable regeneration types for increased flexibility
Specifications
Continuous Flow Rate @ 15 psi drop:
20 gpm
Max. Backwash flow @ 25 psi drop:
7 gpm
Inlet Outlet Connection Type - Valves:
NPT, BSP, SWEAT
Inlet Outlet Size - Valves:
3/4", 1"
Valve Application:
Filter, Water Softener
| Item # | Description |
| --- | --- |
| 560006-001 | 3/4" Paddle Wheel Meter, Downflow Softener, 24V/60Hz, W/U.S. Transformer, Bypass Piston, #1 Injector, 0.50 GPM BLFC, Curve Black Cover |
| 560006-002 | 3/4" Turbine Meter, 24V/60Hz, W/ U.S. Transformer, #1 Injector, 0.50 GPM BLFC, Square Black Cover |
| 560006-003 | 3/4" Turbine Meter, 24V/60Hz, W/ U.S. Transformer, #1 Injector, 0.50 GPM BLFC, Curve Black Cover |
| 560006-009 | 3/4" Paddle Wheel Meter, 24V/60Hz, W/ U.S. Transformer, #1 Injector, 0.50 GPM BLFC, Square Black Cover |
| 560006-012 | 3/4" Turbine Meter, 24V/60Hz, W/ U.S. Transformer, #1 Injector, 0.25 GPM BLFC, Softflo Cover |
| 560006-013 | 3/4" Turbine Meter, 24V/60Hz, W/ U.S. Transformer, #1 Injector, 0.25 GPM BLFC, Square Black Cover |
| 560006-014 | 3/4" Turbine Meter, 24V/60Hz, W/ U.S. Transformer, #1 Injector, 0.25 GPM BLFC, Curve Black Cover |
| Item # | Description |
| --- | --- |
| 560006-001 | 3/4" Paddle Wheel Meter, Downflow Softener, 24V/60Hz, W/U.S. Transformer, Bypass Piston, #1 Injector, 0.50 GPM BLFC, Curve Black Cover |
| 560006-002 | 3/4" Turbine Meter, 24V/60Hz, W/ U.S. Transformer, #1 Injector, 0.50 GPM BLFC, Square Black Cover |
| 560006-003 | 3/4" Turbine Meter, 24V/60Hz, W/ U.S. Transformer, #1 Injector, 0.50 GPM BLFC, Curve Black Cover |
| 560006-009 | 3/4" Paddle Wheel Meter, 24V/60Hz, W/ U.S. Transformer, #1 Injector, 0.50 GPM BLFC, Square Black Cover |
| 560006-012 | 3/4" Turbine Meter, 24V/60Hz, W/ U.S. Transformer, #1 Injector, 0.25 GPM BLFC, Softflo Cover |
| 560006-013 | 3/4" Turbine Meter, 24V/60Hz, W/ U.S. Transformer, #1 Injector, 0.25 GPM BLFC, Square Black Cover |
| 560006-014 | 3/4" Turbine Meter, 24V/60Hz, W/ U.S. Transformer, #1 Injector, 0.25 GPM BLFC, Curve Black Cover |