Clean & Clear® Aboveground Cartridge Filter System - TradeGrade
Clean & Clear® Aboveground Cartridge Filter System - TradeGrade
Clean & Clear® Aboveground Cartridge Filter System - TradeGrade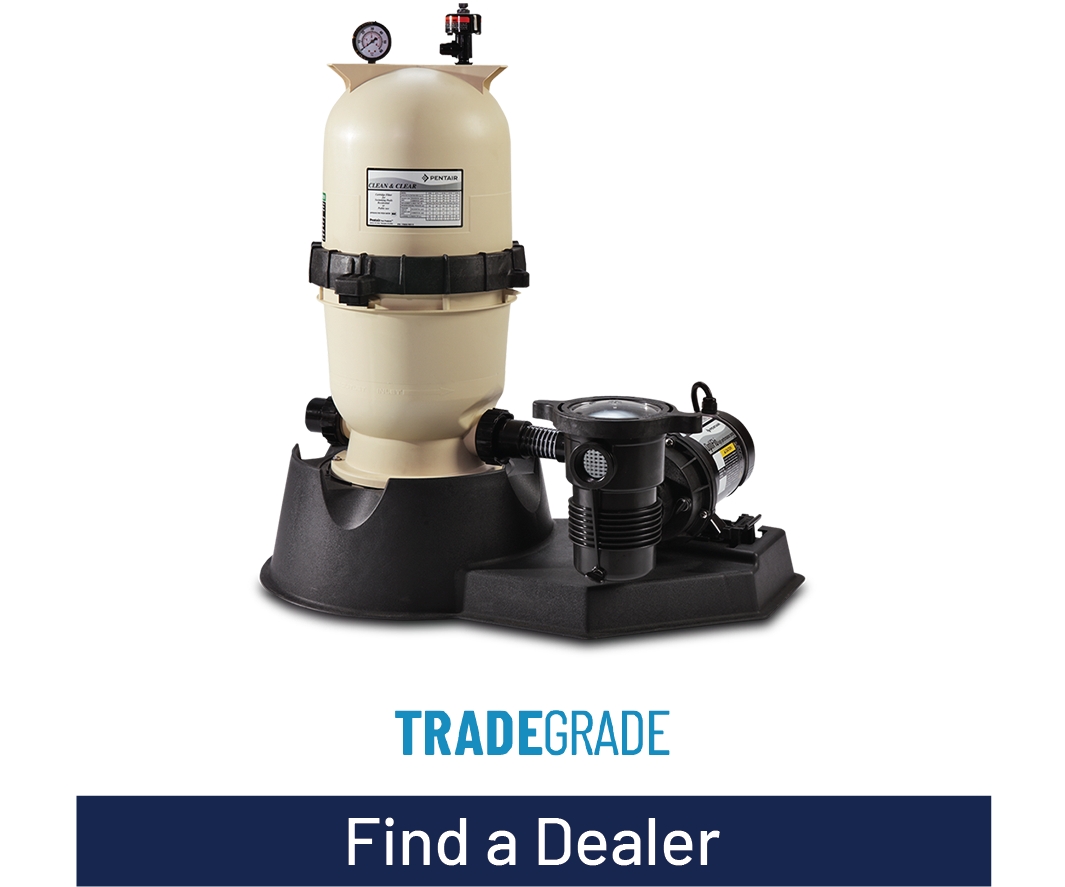 Grab your goggles and go with simplicity.
We've paired our dependable OptiFlo® Aboveground Pump with our highly efficient Clean & Clear Filter to create this high-performance system for aboveground pools. These perfectly matched components will keep your aboveground pool cleaner, clearer, and inviting—with minimal care.
Single-piece filter base and body designed to be durable and quiet.
Optimum filtration efficiency to eliminate air accumulation.
Removable filter cartridge for quick, convenient cleaning.
Powerful and efficient OptiFlo pump is U.S. DOE compliant
Proprietary Totally Enclosed Fan-Cooled (TEFC) pump motor saves energy
Available only in store from Pentair dealers or retail stores

Note: *Two-Speed Pump
Pumps and replacement motors that are single speed and one (1) Total HP or greater cannot be sold, offered for sale, or installed in a residential pool for filtration use in California, Title 20 CCR sections 1601-1609.
Specifications
| Item # | Filter Area (sq. ft.) | Turnover Capacity (Gallons) | Purchase Options |
| --- | --- | --- | --- |
| PNCC0050OE | 50 | 8 hrs. - 24,000; 10 hrs. - 30,000; 12 hrs. - 36,000 | Available Through Dealer |
| PNCC0075OE | 75 | 8 hrs. - 36,000; 10 hrs. - 45,000; 12 hrs. - 54,000 | Available Through Dealer |
| PNCC0100OE | 100 | 8 hrs. - 48,000; 10 hrs. - 60,000; 12 hrs. - 72,000 | Available Through Dealer |
| PNCC0125OE | 125 | 8 hrs. - 60,000; 10 hrs. - 75,000; 12 hrs. - 90,000 | Available Through Dealer |
| PNCC0150OE | 150 | 8 hrs. - 72,000; 10 hrs. - 90,000; 12 hrs. - 108,000 | Available Through Dealer |
| PNCC0175OE | 175 | 8 hrs. - 72,000; 10 hrs. - 90,000; 12 hrs. - 108,000 | Available Through Dealer |
| PNCC0200OE | 200 | 8 hrs. - 72,000; 10 hrs. - 90,000; 12 hrs. - 108,000 | Available Through Dealer |
| Item # | Filter Area (sq. ft.) | Turnover Capacity (Gallons) | Purchase Options |
| --- | --- | --- | --- |
| PNCC0050OE | 50 | 8 hrs. - 24,000; 10 hrs. - 30,000; 12 hrs. - 36,000 | Available Through Dealer |
| PNCC0075OE | 75 | 8 hrs. - 36,000; 10 hrs. - 45,000; 12 hrs. - 54,000 | Available Through Dealer |
| PNCC0100OE | 100 | 8 hrs. - 48,000; 10 hrs. - 60,000; 12 hrs. - 72,000 | Available Through Dealer |
| PNCC0125OE | 125 | 8 hrs. - 60,000; 10 hrs. - 75,000; 12 hrs. - 90,000 | Available Through Dealer |
| PNCC0150OE | 150 | 8 hrs. - 72,000; 10 hrs. - 90,000; 12 hrs. - 108,000 | Available Through Dealer |
| PNCC0175OE | 175 | 8 hrs. - 72,000; 10 hrs. - 90,000; 12 hrs. - 108,000 | Available Through Dealer |
| PNCC0200OE | 200 | 8 hrs. - 72,000; 10 hrs. - 90,000; 12 hrs. - 108,000 | Available Through Dealer |