Sand Dollar® Aboveground Sand Filter System - TradeGrade
Sand Dollar® Aboveground Sand Filter System - TradeGrade
Sand Dollar® Aboveground Sand Filter System - TradeGrade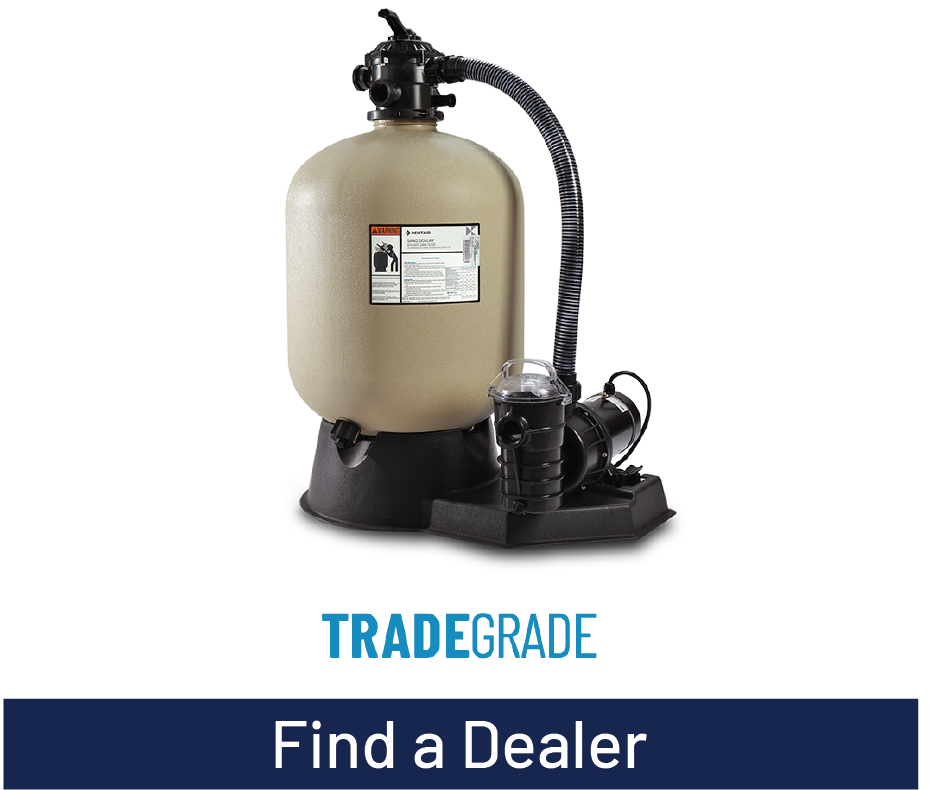 Your next pool filter system comes with the best smiles and memories.  
Pool filter operation doesn't come any easier than this. The Sand Dollar filter and OptiFlo® Aboveground Pool Pump comes built with long-term reliability in mind, and simple to operate and maintain this high-quality system.

6 function, 1-1/2" multiport valve for easy control of filter functions.
Special internal filter design for level sand bed—vital for performance.
Powerful and efficient OptiFlo pump is U.S. DOE compliant
Proprietary Totally Enclosed Fan-Cooled (TEFC) pump motor saves energy..
Large strainer basket with see-thru lid for easy inspection and cleaning.

Available only in store from Pentair dealers or retail stores

Pumps and replacement motors that are single speed and one (1) Total HP or greater cannot be sold, offered for sale, or installed in a residential pool for filtration use in California, Title 20 CCR sections 1601-1609.
Specifications
| Item # | Filter Area (sq. ft.) | Required Sand (lbs.) | Turnover Capacity (Gallons) | Purchase Options |
| --- | --- | --- | --- | --- |
| SD 35 | 1.4 | 100 | 8 hrs. - 16,800; 10 hrs. - 21,000; 12 hrs. - 25,200 |   |
| SD 40 | 1.8 | 150 | 8 hrs. - 19,200; 10 hrs. - 24,000; 12 hrs. - 28,800 |   |
| SD 60 | 2.3 | 250 | 8 hrs. - 22,800; 10 hrs. - 36,000; 12 hrs. - 43,200 |   |
| Item # | Filter Area (sq. ft.) | Required Sand (lbs.) | Turnover Capacity (Gallons) | Purchase Options |
| --- | --- | --- | --- | --- |
| SD 35 | 1.4 | 100 | 8 hrs. - 16,800; 10 hrs. - 21,000; 12 hrs. - 25,200 |   |
| SD 40 | 1.8 | 150 | 8 hrs. - 19,200; 10 hrs. - 24,000; 12 hrs. - 28,800 |   |
| SD 60 | 2.3 | 250 | 8 hrs. - 22,800; 10 hrs. - 36,000; 12 hrs. - 43,200 |   |