DPD and Bromine Test Kits
DPD and Bromine Test Kits
DPD and Bromine Test Kits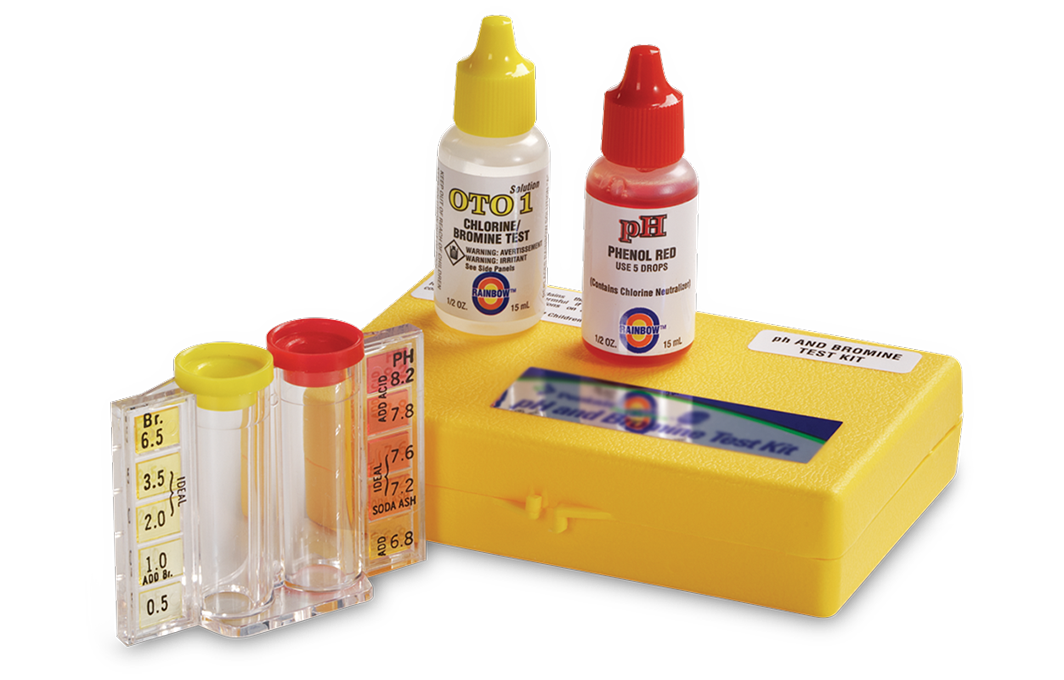 Keep Your Pool Clean and Inviting
Routine pool maintenance will help you keep your pool looking clean, sparkling, and inviting day after day. Having the right collection of pool maintenance products and accessories at your disposal helps cut pool maintenance chores down to size, leaving you more time to enjoy your pool with family and friends. Select the brushes and poles, hand skimmers, leaf rakes and traps, and thermometers to keep your pool sparkling clean and ready to go.
Test Kit Refills and Reagents
Pentair testing kits and chemicals are manufactured under the strictest quality control standards in a laboratory staffed by certified chemists where all test solutions are formulated and packaged. To guarantee reliability, test reagents should be replaced annually. Replacement and bulk reagents are available in a variety of sizes and packaging.
Specifications
| Item # | Product | Model | Description | Carton Wt. (Lbs.) |
| --- | --- | --- | --- | --- |
| R151196 | R151196 | 756 | "2 n 1" Bromine test kit, 1/2 oz. OTO and pH, Br range 0.5-6.5, yellow hinged case, packed 12 kits per counter display | 10 |
| R151201 | R151201 | 756 | "2 n 1" Bromine test kit, 1/2 oz. OTO and pH, Br range 0.5-6.5, yellow hinged case, packed 12 kits per counter display, for Canada | 10 |
| Item # | Product | Model | Description | Carton Wt. (Lbs.) |
| --- | --- | --- | --- | --- |
| R151190 | R151190 | 77DPD | 4 in 1 Chlorine/Bromine test kit. DPD No.1 and No. 3 tablets, solutions No. 2, No. 3, No. 4, No. 5, wide Lucite test cell | 16 |
| R151246 | R151246 | 78DPD | "All-in-One" test kit, free, total and combined CI, pH, acid demand, total Alkalinity, Lucite test cell, 50 each DPD No.1 and No. 3 tabs, 1 oz. No. 2, No. 3, 1/2 oz. No. 4, No. 5, water test booklet, red display box | 17 |
| R151248 | R151248 | 78DPD | "All-in-One" test kit, for servicemen and homeowners, free, total and combined CI, Cyanuric Acid, pH, Acid Demand and Total Alkalinity, Lucite test cell, 50 each DPD No.1 and No. 3 tablets, 10 Cyanuric acid tablets, 1 oz. No. 2, No. 3, 1/2 oz. No. 4, No. 5, water test booklet, red display box | 18 |
| 200063 | 200063 | 752DPD/PH | Free chlorine and pH analyzer test kit. DPD and pH tablets, 30 tablets each. | 5 |
| Item # | Product | Model | Description | Carton Wt. (Lbs.) |
| --- | --- | --- | --- | --- |
| R151196 | R151196 | 756 | "2 n 1" Bromine test kit, 1/2 oz. OTO and pH, Br range 0.5-6.5, yellow hinged case, packed 12 kits per counter display | 10 |
| R151201 | R151201 | 756 | "2 n 1" Bromine test kit, 1/2 oz. OTO and pH, Br range 0.5-6.5, yellow hinged case, packed 12 kits per counter display, for Canada | 10 |
| Item # | Product | Model | Description | Carton Wt. (Lbs.) |
| --- | --- | --- | --- | --- |
| R151190 | R151190 | 77DPD | 4 in 1 Chlorine/Bromine test kit. DPD No.1 and No. 3 tablets, solutions No. 2, No. 3, No. 4, No. 5, wide Lucite test cell | 16 |
| R151246 | R151246 | 78DPD | "All-in-One" test kit, free, total and combined CI, pH, acid demand, total Alkalinity, Lucite test cell, 50 each DPD No.1 and No. 3 tabs, 1 oz. No. 2, No. 3, 1/2 oz. No. 4, No. 5, water test booklet, red display box | 17 |
| R151248 | R151248 | 78DPD | "All-in-One" test kit, for servicemen and homeowners, free, total and combined CI, Cyanuric Acid, pH, Acid Demand and Total Alkalinity, Lucite test cell, 50 each DPD No.1 and No. 3 tablets, 10 Cyanuric acid tablets, 1 oz. No. 2, No. 3, 1/2 oz. No. 4, No. 5, water test booklet, red display box | 18 |
| 200063 | 200063 | 752DPD/PH | Free chlorine and pH analyzer test kit. DPD and pH tablets, 30 tablets each. | 5 |