Pentek Undersink Filtration Systems QC10-CBR-QC10-EP-QC10-GAC-QC10-TSGA
Pentek Undersink Filtration Systems QC10-CBR-QC10-EP-QC10-GAC-QC10-TSGA
Pentek Undersink Filtration Systems QC10-CBR-QC10-EP-QC10-GAC-QC10-TSGA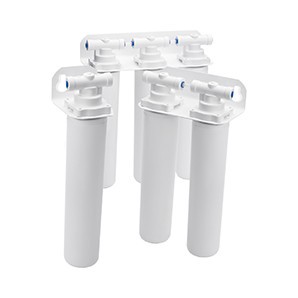 Pentair Pentek Quick-Change Filtration Systems are designed for easy installation and cartridge change. 1/4" or 3/8" push fittings, as well as 1/4" compression fittings, on the inlet and outlet sides of the filter head allow effortless installation.
The cartridge filter is easily changed with a quarter-turn of the filter. Water is automatically shut off during the change of the filter through the auto shut-off feature built into the filter head. This feature eliminates the need for additional shut-off valves to and from the filter system.
The Pentek Quick-Change Filter System offers several cartridge options to meet the demands of varying water conditions. The granular activated carbon cartridge offers chlorine taste and odor performance with low pressure drop. The EP carbon block filter offers superior chlorine taste and odor performance with 5 micron sediment reduction by mechanical means. The CBR carbon block cartridge has enhanced performance capabilities for the reduction of chlorine taste & odor, lead, atrazine and lindane.
The CBR carbon block is NSF/ANSI Standard 53 certified to reduce cysts such as Cryptosporidium and Giardia by mechanical means.
Features and Benefits
Easy to install, easy filter change
Reversible metal brackets for 1, 2 or 3 cartridges
1/4-inch or 3/8-inch John Guest® push-fit connections available
1/4-inch compression connections available for flex hose connections
Cartridge models to choose from to meet specific application needs
Certifications
QC10-EP, QC10-GAC, QC10-TSGAC, and QC10-CBR are Tested and Certified by NSF/ANSI to Standard 42
QC10-CBR is Tested and Certified by NSF/ANSI to Standard 53