Five Tips for Opening Your Pool
Spring means something extra special for pool owners. Not only are the cold winter months (hopefully) over it's also the beginning of pool season! You're probably chomping at the bit to jump in and enjoy your backyard retreat; but before you take that leap, it's essential to make sure your pool opening checklist is in place. By opening your pool efficiently and correctly, you'll enjoy some well-deserved pool time with peace of mind.
Here are five helpful things to keep in mind before you open your pool:
1. Give your plumbing a once over.
A leak at the equipment pad can cause severe issues for your pool. To make sure your plumbing is up to snuff, consult your pool professional to check for any potential leaks or cracks. This step is critical if you had harsh winter weather.
Can't find a dealer? Use our Find a Dealer Locator.
2. Check the pressure gauge to ensure it is optimally functioning.
The pressure gauge may be tiny, but it's an essential piece of equipment for your pool. Since your pool filter operates under pressure, it's critical to ensure the pressure level isn't too high or low. 

There isn't a magic number for all pool filters, but most gauges should read between the ranges of 8 psi to 25 psi. When testing, check to see if your gauge is reading too far in one direction. Sometimes, if a pressure gauge is reading very low, check to make sure the water is flowing over the skimmer door as this door could be stuck in the upright position by leaves or debris. There could also be a leak at the pump, so engage your pool professional to ensure the lid o-ring is sealed correctly, and water is flowing into the pump.
If you're seeing abnormal readings, have your pro check it out. Your pool professional will be able to look over your system and determine if there is a more significant issue that needs attention.
3. Run your system to ensure nothing needs replacing.
Be sure to engage your pool professional to prep your equipment before running anything. This step includes removing winterizing plugs and replacing drain plugs for the pump. Once the pump, filter, heater, and salt or chlorine systems are running, check everything over to ensure that it's working as it should. 

TIP: Is your pool pump up to compliance? New regulations from the Department of Energy will go into effect on July 19, 2021, making most single-speed pumps non-compliant. Learn more about this new regulation and make sure your pool is both energy-efficient and cost-efficient.
4. Remove the cover. Take care not to drop debris into the pool.
We all know that person who tried to remove their pool cover but ended up accidentally dumping all the yard debris from the pool cover into the pool. Follow these tips to seamlessly remove the cover and avoid a big clean-up project: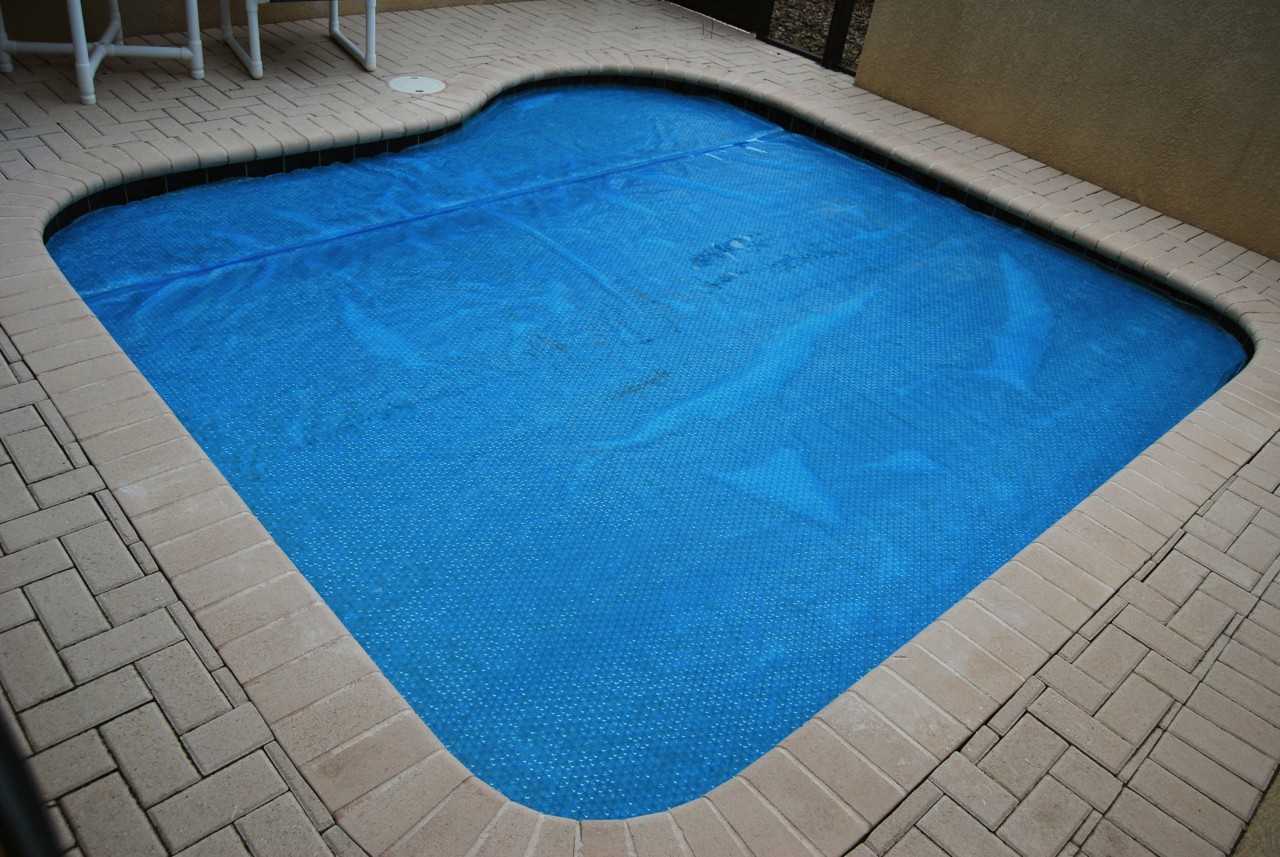 If you have DRY leaves on your pool cover, consider using a pool brush or a leaf blower to move them away from your pool, so you can quickly gather them up.
If you have WET leaves on your pool cover, consider using a leaf rake designed to remove leaves from the pool cover.
Use a pool cover pump to remove water on top of the cover. Place the pump in the middle of the pool cover, make sure the pool cover is taut, because the natural weight of the pump will help move the water toward the pump so that all extra liquid is vacuumed away from the pool.
Grab a friend (or two) and have each person grab a side of the cover. Slowly walk the cover to the opposite side of the pool, repeating the process until the cover folds on one side of the pool. Place the cover in an area where it can quickly air dry. Once dried, consider sprinkling baking soda to help prevent mold and mildew build-up before folding it neatly for storage.
If you have any questions or concerns about removing your cover or are interested in purchasing tools to make the task easier, be sure to call your pool professional.
5. Carefully consider your pool safety plan.
Opening your pool is an excellent time to think about your pool safety plan. Some considerations for your plan include:
Pursuing CPR training and posting CPR instructions near the pool
Placing a first aid kit in an area that is easily accessible and visible
Establishing pool rules and making sure all those who use the pool are aware of them
Back-up is always available through your local pool dealer, who can help ensure a successful pool season. 

When you make an appointment with your pool professional, be sure to ask them for any specific steps they need you to take before their visit. This will help streamline your process and get you enjoying your pool sooner!