Pentair Hypro High Pressure Stainless Steel Nozzles
Pentair Hypro High Pressure Stainless Steel Nozzles
Pentair Hypro High Pressure Stainless Steel Nozzles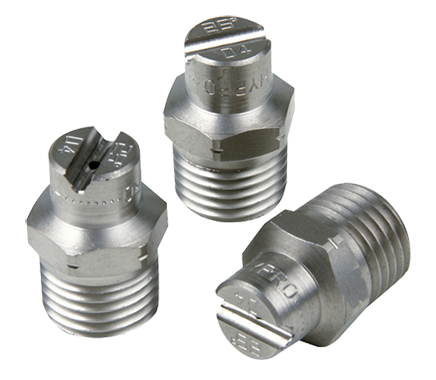 Constructed from precision machined and hardened stainless steel, the HP is ideal for high pressure cleaning applications, including car wash and rinse. They provide a high impact spray with an efficient and uniform distribution to reduce operating cost and increase cleaning ability.
Achieves up to 16%* greater impact than competitive high pressure nozzles, making them the best value on the market today
Hardened 416 stainless steel, the industry standard for long-life

Reliable performance in high pressure applications up to 4000 psi

High impact spray in a tightly formed fan pattern has minimum energy loss

Consistent, even distribution provides uniform cleaning without overlapping.
Specifications
Product:
HP- High Pressure Nozzle
| Item # | CONNECTION SIZE | Spray Angle | Pressure Range |
| --- | --- | --- | --- |
| HP1/4-0-XX | 1/4" | 0 Degrees | 300 - 4000 PSI |
| HP1/4-5-XX | 1/4" | 5 Degrees | 300 - 4000 PSI |
| HP1/4-15-XX | 1/4" | 15 Degrees | 300 - 4000 PSI |
| HP1/4-25-XX | 1/4" | 25 Degrees | 300 - 4000 PSI |
| HP1/4-40-XX | 1/4" | 40 Degrees | 300 - 4000 PSI |
| HP1/8-0-XX | 1/8" | 0 Degrees | 300 - 4000 PSI |
| HP1/8-5-XX | 1/8" | 5 Degrees | 300 - 4000 PSI |
| HP1/8-15-XX | 1/8" | 15 Degrees | 300 - 4000 PSI |
| HP1/8-25-XX | 1/8" | 25 Degrees | 300 - 4000 PSI |
| HP1/8-40-XX | 1/8" | 40 Degrees | 300 - 4000 PSI |
| Item # | CONNECTION SIZE | Spray Angle | Pressure Range |
| --- | --- | --- | --- |
| HP1/4-0-XX | 1/4" | 0 Degrees | 300 - 4000 PSI |
| HP1/4-5-XX | 1/4" | 5 Degrees | 300 - 4000 PSI |
| HP1/4-15-XX | 1/4" | 15 Degrees | 300 - 4000 PSI |
| HP1/4-25-XX | 1/4" | 25 Degrees | 300 - 4000 PSI |
| HP1/4-40-XX | 1/4" | 40 Degrees | 300 - 4000 PSI |
| HP1/8-0-XX | 1/8" | 0 Degrees | 300 - 4000 PSI |
| HP1/8-5-XX | 1/8" | 5 Degrees | 300 - 4000 PSI |
| HP1/8-15-XX | 1/8" | 15 Degrees | 300 - 4000 PSI |
| HP1/8-25-XX | 1/8" | 25 Degrees | 300 - 4000 PSI |
| HP1/8-40-XX | 1/8" | 40 Degrees | 300 - 4000 PSI |