WaterFall Specialty Pumps - TradeGrade
WaterFall Specialty Pumps - TradeGrade
WaterFall Specialty Pumps - TradeGrade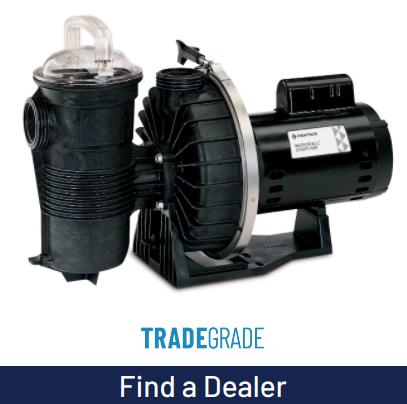 WaterFall Specialty Pumps
With a closed impeller, this single-speed custom designed pump is ideal for the specific demands of water features such as fountains, waterfalls, and other special pool features.
Designed for low head applications that require 35-180 GPMs
Pump components are custom molded of thermoplastic for superior strength, durability, and quiet operation
Standard 2 in. suction and discharge ports (3 in. suction and 2 in. discharge on 180 model) permit maximum operating efficiency
Extra-large strainer basket extends time between cleanings
Transparent strainer pot lid with comfortable handle provides easy access to strainer basket
Pumps and replacement motors that are single speed and one (1) Total HP or greater cannot be sold, offered for sale, or installed in a residential pool for filtration use in California, Title 20 CCR sections 1601-1609.

Homeowner and Pro Resources
Specifications
| Item # | model | Voltage | Full Load Amps | Primary Listings and Certifications | Port Size (NPT) | Carton Wt. (Lbs) | Purchase Options |
| --- | --- | --- | --- | --- | --- | --- | --- |
| 340350 | AFP-75 | 115/230 | 9.6/4.8 | UL | 2 in. x 2 in. | 40 | Available Through Dealer |
| 340351 | AFP-120 | 115/230 | 9.6/4.8 | UL | 2 in. x 2 in. | 40 | Available Through Dealer |
| 340352 | AFP-150 | 115/230 | 12.0/6.0 | UL | 2 in. x 2 in. | 43 | Available Through Dealer |
| 340300 | AF-753 | 115/230 | 9.6/4.8 | UL | 2 in. x 2 in. | 37 | Available Through Dealer |
| 340301 | AF-1203 | 115/230 | 9.6/4.8 | UL | 2 in. x 2 in. | 37 | Available Through Dealer |
| 340302 | AF-1803 | 115/230 | 12.0/6.0 | UL | 2 in. x 2 in. | 40 | Available Through Dealer |
| Item # | model | Voltage | Full Load Amps | Primary Listings and Certifications | Port Size (NPT) | Carton Wt. (Lbs) | Purchase Options |
| --- | --- | --- | --- | --- | --- | --- | --- |
| 340350 | AFP-75 | 115/230 | 9.6/4.8 | UL | 2 in. x 2 in. | 40 | Available Through Dealer |
| 340351 | AFP-120 | 115/230 | 9.6/4.8 | UL | 2 in. x 2 in. | 40 | Available Through Dealer |
| 340352 | AFP-150 | 115/230 | 12.0/6.0 | UL | 2 in. x 2 in. | 43 | Available Through Dealer |
| 340300 | AF-753 | 115/230 | 9.6/4.8 | UL | 2 in. x 2 in. | 37 | Available Through Dealer |
| 340301 | AF-1203 | 115/230 | 9.6/4.8 | UL | 2 in. x 2 in. | 37 | Available Through Dealer |
| 340302 | AF-1803 | 115/230 | 12.0/6.0 | UL | 2 in. x 2 in. | 40 | Available Through Dealer |