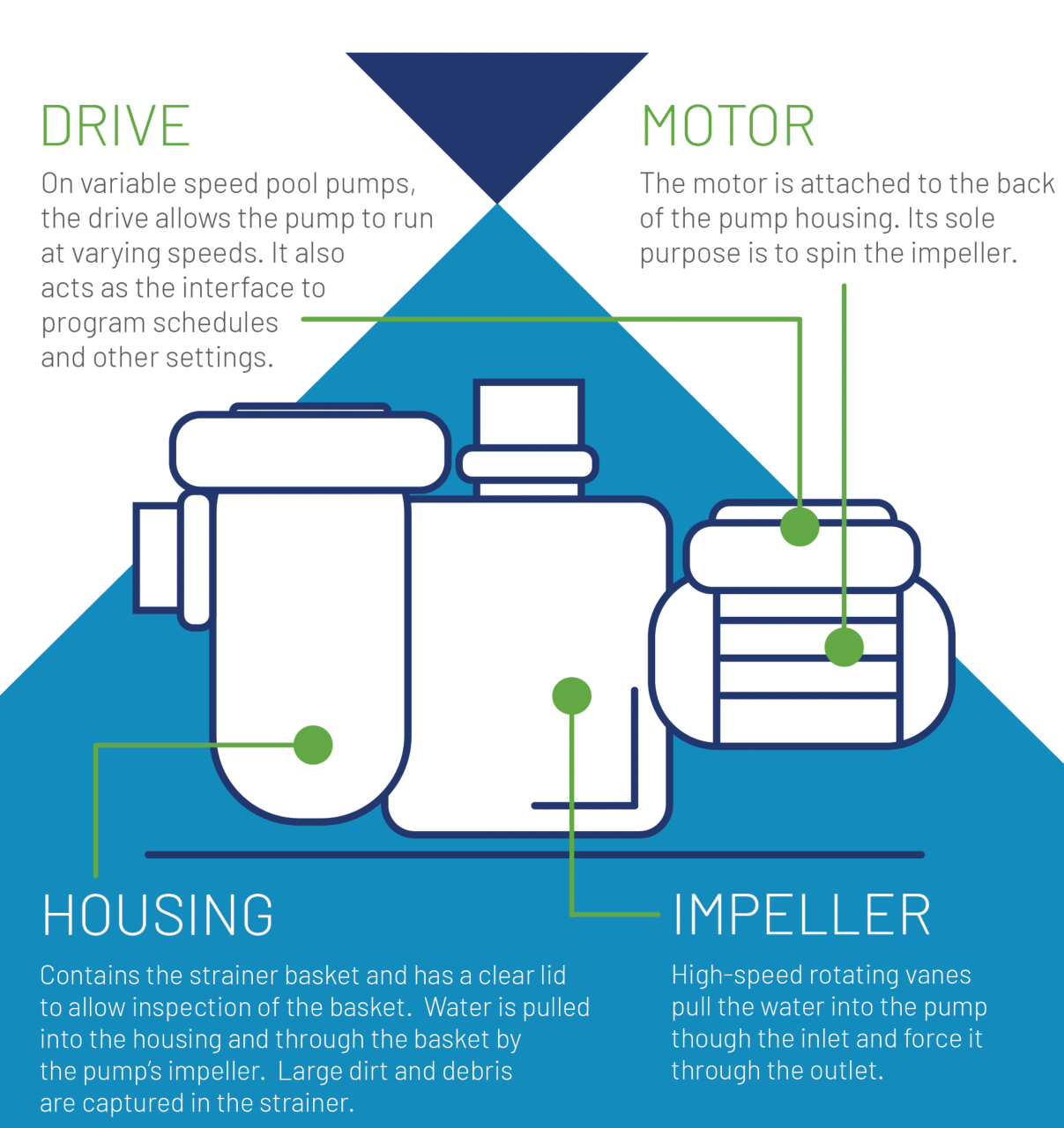 Let's dip our toes into the basics. 
What is a pool pump and what does it do?
The pool pump is the heart of your pool's circulatory system. It pulls water from the pool and pushes it to other equipment to be heated, treated, and filtered, returning cleaner, healthier, and warmer pool water. When your pool pump isn't operating at peak performance, it can have negative effects on the rest of your pool equipment and the water you deserve to enjoy.

When it comes to pool pumps, efficiency is the name of the game.
Did you know a pool pump can be one of the largest consumers of energy in your home?
Second only to your heating and cooling system. There are many factors that contribute to an energy-efficient pool pump, such as:
the size of the pool pump relative to the size of your pool
proper flow rate, and 
single speed vs. variable speed pool pump technology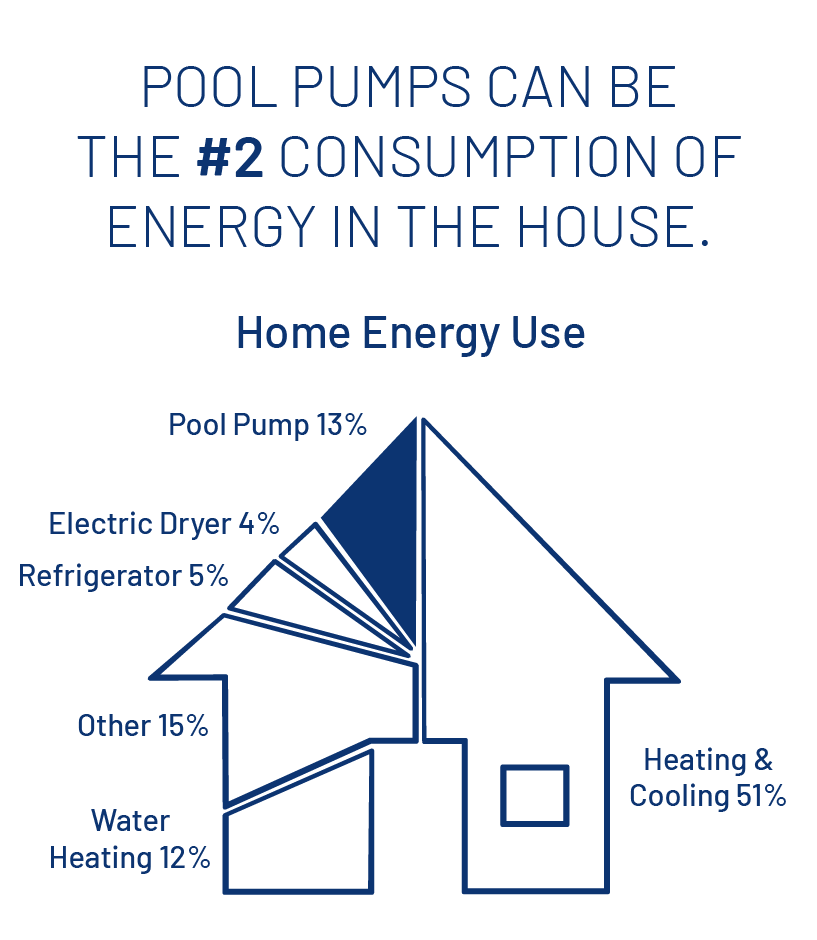 Not all pumps are created equal: Single-Speed vs. Variable Speed Pool Pumps
There are two primary types of pool pumps: single speed pool pumps and variable speed pool pumps. Single speed pumps do just that: operate at one – single – speed. Whereas variable speed pool pumps allow a user to adjust the flow rate of the water through the system at, you guessed it - varying speeds. The ability to run a pump at different speeds is what makes this technology a game-changer. A pool owner can operate their pump for a longer period at lower speeds without racking up energy consumption and extra costs.
What is a variable speed pool pump and why you should choose it.
Most variable speed pool pumps have electronic controls that allow the pump to run at a speed set by the user. Typically, they have three to eight preprogrammed speeds for various tasks, like routine pool filtration or operating water features. Because of their advanced technology, these pool pumps help conserve energy use by running at the right speed, at the right time.
Gallon for gallon, pool pumps move water more efficiently at lower operating speeds in the same way that cars are more fuel efficient when driven at lower speeds. With variable speed technology, pool pumps working at lower speeds more consistently can even give pool owners like you up to 90% energy savings. That could mean cutting your energy bill by up to $1,500 per year! *
Did You Know? Since 2005, Pentair's ENERGY STAR certified variable speed pool pumps have helped U.S. consumers save $2.4 billion in operating costs, which amounts to 22 billion kilowatt hours of energy saved!**
Benefits of a Pentair Variable Speed Pool Pump

Higher Performance
Consistent flow control for the highest energy saving and ultimate system performance.

Energy & Cost Savings
Slow and steady wins the race. Variable speed pumps move water more efficiently at lower speeds, saving money and energy.
Quieter
These pumps barely make a whisper. You'll be speechless at how quiet they operate.

How to choose the right variable speed pool pump
Selecting the right pool pump for your pool doesn't have to be a struggle. Here are a few things to consider while shopping for your pool pump:
Size of the pool. The size of your pool pump should be appropriate to maintain proper pool chemistry, cleanliness and clarity. Bigger is not always better.
Additional equipment and features. If your pool has jaw-dropping water features, or additional equipment like a heater or salt cell, your pool pump needs will be different from a pool without that equipment.
Pipe size. The size of the pump needs to fit the pipe size on your pad. If replacing a pump, it's easier to use a pump with the same size plumbing already installed in the pool. This can also help make your entire system more efficient. 
Remember though, every pool is unique and requires accurate measurements so be sure to check in with your local pool professional who can calculate the exact needs for your pool.
Buyer beware: Low horsepower = more hassles.
When researching variable speed pool pumps, you'll want to be sure your pool pump's power is perfect for your pool. (Whew, say that 10 times fast!). If you're not moving enough water, it can lead to these common pool problems: 
Unsanitary pool
Poor water clarity
Pool requires more chlorine
Increased wear & tear
More frequent filter cleaning 
Shorter pool pump lifetime
Long live your pool pump! Maintenance tips. How to Maintain Your Pool Pump
Repair leaks and noisy bearings
Don't use chemicals close to the motor
Do away with debris build up around the motor vents
Keep it safe from extreme weather and flooding or excessive spraying or splashing
Check the basket regularly of debris
* Savings based on variable speed pump compared to a single-speed pump running 12 hours per day at an average of $0.16 per kWh in a 20,000 gallon pool. Actual savings may vary based on local utility rates, pool size, pump run time, pump horsepower, pump rpm, plumbing size and length, pump model, service factor and other hydraulic factors. Individual Weighted Energy Factor (WEF) scores and savings may vary by model.
**Savings are based on a weighted average annual kWh savings from the Consortium for Energy Efficiency (CEE) at $0.11 / kWh. Individual Weighted Energy Factor (WEF) scores and savings may vary by model.