Pentair Hypro 1502 Series 6 Roller Pumps
Pentair Hypro 1502 Series 6 Roller Pumps
Pentair Hypro 1502 Series 6 Roller Pumps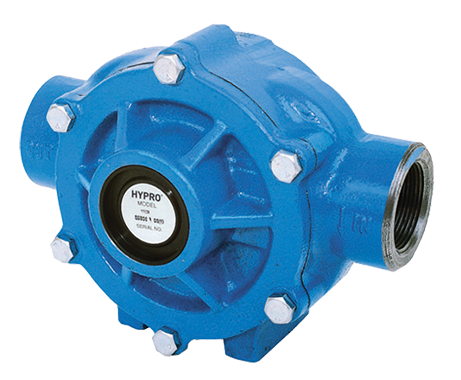 The 1502 series, 6 roller, pump achieves up to 62 gpm (235 lpm) and 200 psi (13.8 bar). The series includes models 1502C, 1502N, and 1502XL.
Shaft rotation: Counter clockwise when looking at the shaft end(Clockwise available)
Rollers: Super rollers standard [Poly (T3) available]
Recommended PTO Torque Arm Kit 3430-0540
Rotor: Cast Iron, Ni-Resist or Silvercast
Specifications
Ports:
1-1/2" NPT (BSP available on 1502C)
Max Fluid Temperature:
140°F/60°C
Shaft Output (US):
15/16"
Shaft Output (Metric):
23.8 mm
| Item # | Max GPM | Max LPM | Max PSI | Max BAR | Max RPM | Housing Material | Seal Material |
| --- | --- | --- | --- | --- | --- | --- | --- |
| 1502C | 62 | 235 | 200 | 13.8 | 1000 | Cast Iron | Buna-N standard (Viton (Q) available) |
| 1502C-T2 | 62 | 235 | 200 | 13.8 | 1000 | Cast Iron | Buna-N standard (Viton (Q) available) |
| 1502C-T3 | 62 | 235 | 200 | 13.8 | 1000 | Cast Iron | Buna-N standard (Viton (Q) available) |
| 1502C-R | 62 | 235 | 200 | 13.8 | 1000 | Cast Iron | Buna-N standard (Viton (Q) available) |
| 1502N | 62 | 235 | 200 | 13.8 | 1000 | Ni-Resist | Buna-N standard (Viton (Q) available) |
| 1502XL | 62 | 235 | 200 | 13.8 | 1000 | Silvercast | Viton® standard |
| Item # | Max GPM | Max LPM | Max PSI | Max BAR | Max RPM | Housing Material | Seal Material |
| --- | --- | --- | --- | --- | --- | --- | --- |
| 1502C | 62 | 235 | 200 | 13.8 | 1000 | Cast Iron | Buna-N standard (Viton (Q) available) |
| 1502C-T2 | 62 | 235 | 200 | 13.8 | 1000 | Cast Iron | Buna-N standard (Viton (Q) available) |
| 1502C-T3 | 62 | 235 | 200 | 13.8 | 1000 | Cast Iron | Buna-N standard (Viton (Q) available) |
| 1502C-R | 62 | 235 | 200 | 13.8 | 1000 | Cast Iron | Buna-N standard (Viton (Q) available) |
| 1502N | 62 | 235 | 200 | 13.8 | 1000 | Ni-Resist | Buna-N standard (Viton (Q) available) |
| 1502XL | 62 | 235 | 200 | 13.8 | 1000 | Silvercast | Viton® standard |