EasyClean™ Aboveground D.E. Filter System - TradeGrade
EasyClean™ Aboveground D.E. Filter System
EasyClean™ Aboveground D.E. Filter System - TradeGrade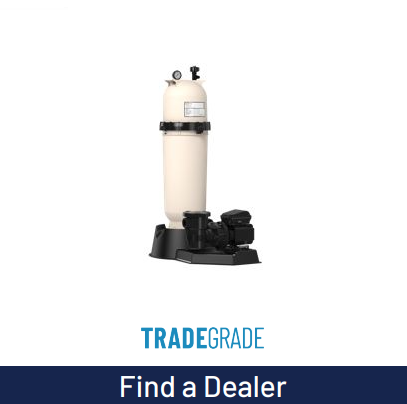 D.E. clarity lets you dive deep with clear water confidence.
If you're looking for top-end aboveground D.E. system performance with minimal maintenance, look no further than the EasyClean filter system from Pentair. The EasyClean delivers maximum cleaning performance without the need to manually clean its D.E. cartridge nearly as often.

D.E. element ensures even water flow.
Automatically regenerates D.E. media during off cycle.
Powerful and efficient OptiFlo pump is U.S. DOE compliant
Proprietary Totally Enclosed Fan-Cooled (TEFC) pump motor saves energy
Robust single-piece system base for durability and quiet operation.

Pumps and replacement motors that are single speed and one (1) Total HP or greater cannot be sold, offered for sale, or installed in a residential pool for filtration use in California, Title 20 CCR sections 1601-1609.
Specifications
| Item # | Filter Area (sq. ft.) | D.E. Required (lbs.) | Turnover Capacity (Gallons) | Purchase Options |
| --- | --- | --- | --- | --- |
| EC60 | 15 | 1.5 | 8 hrs. - 28,800; 10 hrs. - 36,000; 12 hrs. - 43,200 | Available Through Dealer |
| EC90 | 30 | 3.0 | 8 hrs. - 43,200; 10 hrs. - 54,000; 12 hrs. - 64,800 | Available Through Dealer |
| Item # | Filter Area (sq. ft.) | D.E. Required (lbs.) | Turnover Capacity (Gallons) | Purchase Options |
| --- | --- | --- | --- | --- |
| EC60 | 15 | 1.5 | 8 hrs. - 28,800; 10 hrs. - 36,000; 12 hrs. - 43,200 | Available Through Dealer |
| EC90 | 30 | 3.0 | 8 hrs. - 43,200; 10 hrs. - 54,000; 12 hrs. - 64,800 | Available Through Dealer |