sku-page
Main Content Starts Here
Pentair Pentek Solar Drive Power Blender PSD25PB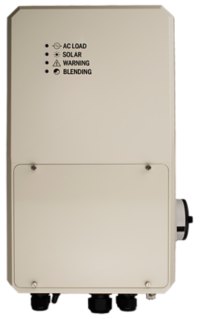 Pentair is paving the way with an affordable solar solution that is easily integrated into your new or existing water supply system. With the Pentair Pentek Solar Drives, using the sun's energy to power your day-to-day operations has never been simpler. The retrofit plug and play components provide you with cost-effective options by allowing you to only purchase components you need to optimize your existing system.
In addition to the completely off-grid line, Pentair Pentek Solar Drive Power Blender PSD25PB boasts capabilities to seamlessly blend operational energy between solar arrays and power grids. Run any qualified Pentair Pentek 4" submersible pump when sunlight is available and benefit from dependable grid power during nighttime or low solar conditions to support your 24/7 operations.
Retrofit existing systems with one-of-a-kind 4" AC pump and motor combination.
Cost savings with Pentair's traditional 4" AC pumps versus third-party DC pumps.

Simple hookup, weatherproof, durable and automatic starting capacity.
Back to top of page