Bringing Water to Life, for Life: 2018 Corporate Responsibility Report
When we say, "Pentair delivers smart, sustainable water solutions for life," we mean it. It's our brand promise that guides the decisions we make.
From the development of our innovative water technologies to our operational infrastructure, workplace culture of giving, and community impact, we recognize our responsibility as a global company to make a positive impact on the health of the world.
Each year, we take a close look at our performance in key areas and publish our findings in order to share our commitment to this mission, hold ourselves accountable, and celebrate our continuing progress. Our 2018 Corporate Responsibility Report is no exception.
Keep reading for some of our favorite highlights from this year's Corporate Responsibility Report. Do you have your own sustainability story to share? Get in touch on Facebook, Twitter, LinkedIn or Instagram and let us know!
SMART
Creating smart solutions means taking a holistic approach that recognizes a growing demand for water around the world and making the most of every drop.
Highlights in 2018:
Launched IoT-enabled solutions to help pool owners, foodservice operators and breweries conserve energy, resources and water.
63.3% of our solutions support water efficiency, helping to reduce, reuse, or recover water, directly or indirectly.*
63.4% of our solutions help improve water quality, including products that deliver cleaner, safer water and products that purify water for reuse or return to the environment.*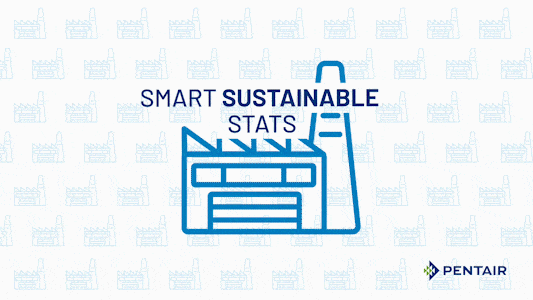 SUSTAINABLE
Sustainability means holding ourselves accountable as global citizens, developing solutions that drive efficient water use, and operating in ways that minimally impact our environment.
Highlights in 2018:
Named an Energy Star™ Partner of the Year, for the fifth consecutive year, for superior energy efficiency achievements, specifically for our energy efficient pool pumps.
Diverting 31,284 tons of waste from landfills with new Zero Waste initiative by reducing our materials use while increasing recycling and reusing of materials.
Reclaimed 370,000,000 gallons of usable water from two Pentair-owned and operated (via a sub-contractor) Wastewater Treatment Plants in Victoria, Australia. This provides local farmers with approximately 1.6 million gallons of water daily for use in crop irrigation.
FOR LIFE
Finally, no matter where our customers live around the world, safe, sustainable water is vital to living a healthy, happy life. We work to help deliver cleaner, safer water to everyone—especially those in greater need.
Highlights in 2018:
Brought 16,000 people cleaner, safer water as part of a five-year plan to eventually deliver water to 150,000 people in Colón, Honduras, and reduce waterborne illnesses.
$3.1 million donated to philanthropic causes strengthening the communities in which we operate and providing water to those in need.
More than $185,000 worth of employee volunteer hours and charitable giving matched, including efforts in food collection, planting trees, building houses, and mentoring young people.
However you use our industry-leading solutions, you can invest in Pentair products knowing that sustainability is more than an initiative, it's what we do. Want to learn more? Read the full 2018 Corporate Responsibility Report.
*based on Pentair's top brands as a percentage of total revenue.