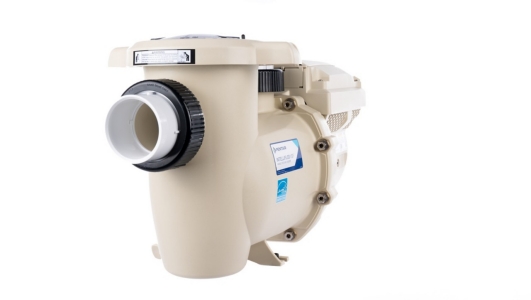 A Pump That Knows A Pool's Flow
A pool that is crystal clear and inviting is key to the perfect backyard oasis. The IntelliFlo3™ VSF Pool Pump leverages built-in sensorless flow control for optimum water flow and adjusts to pool conditions, keeping pools performing at their best. Set up, monitor and operate the pump from anywhere with wireless technology control through the Pentair Pro app.

Frequently Asked Questions
What are the major benefits of having the IntelliFlo3 VSF pool pump?
The IntelliFlo3 VSF pool pump allows pools to have better flowing water for more bubbling bubblers and cascading fountains, with critical equipment that is taxed less and lasts longer. The combination of variable speed and sensorless flow save pool owners up to 90% on their energy bills. Additionally, the pump comes with optional built-in automation that allows pool owners to control up to two other pool devices.
How does my IntelliFlo3 VSF pool pump adjust to pool conditions?
The IntelliFlo3 VSF pool pump uses patented built-in sensorless flow technology to adjust speed automatically as conditions change with pools. For example, when dirt or debris loads into a filter between cleanings, the pump will sense a reduction in flow due to a higher restriction in the flow path because of the presence of that dirt or debris. Therefore, the pump will speed up to maintain flow.
Can I control my IntelliFlo3 VSF pool pump remotely?
Yes. With seamless Wifi or Bluetooth® wireless technology via the Pentair Home app, set up, monitor the pump, or change the flow rate from anywhere. Pool owners can receive alerts sent to their phone and learn more about tools, tips, and tricks through the Pentair Home app. Additionally, local pool professionals can remotely monitor the IntelliFlo3 VSF pool pump so that pool owners have peace of mind knowing that their pool is performing at its best.

How do local pool professionals help me remotely monitor my IntelliFlo3 VSF pool pump?
First, owners will need to set up their IntelliFlo3 VSF pool pump in the Pentair Home app if they don't already have it. Once set up, select the settings at the top right on the device home screen. Then select "Remote Monitoring" and then select a local pool professional and request remote monitoring. Refer to the product user's guide for more step-by-step processes.
What are the different operation modes of the IntelliFlo3 VSF pool pump?
There are three modes of operation: manual, timer, and schedule. The default program is a twenty-four schedule at 30 gallons per minute. For manual mode, select which devices will be active and set a speed or flow rate. For timer mode, select timer duration and which devices will be active to then set an appropriate pump speed. For schedule mode, select the days of the week you would like the pump to run, end times, or a start time and run duration. The IntelliFlo3 VSF pool pump can have up to eight different programs. For more advanced settings refer to the product manual.  
Installing IF3 Using Pro App
Which type of support do you need?