sku-page
Everpure® Complete Filtration System with P.O.P. Display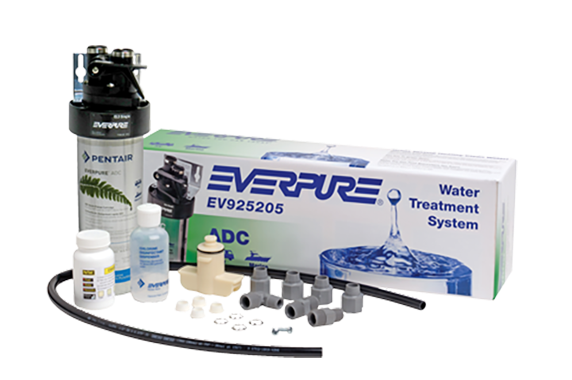 The recommended super-chlorination /dechlorination method disinfects your RV's entire water distribution system and can protect you from waterborne bacteria, viruses, mold and algae. The exclusive Micro-Pure® filter considerably reduces the taste and odor of chlorine, dirt, rust, cysts and asbestos down to 1/2 micron. Certified by NSF International. Includes a QL3-ADC filter head with disposable "Quick-Change" Filter Cartridge, mounting bracket, liquid chlorine dispenser, chlorine test kit, anti-freeze diverter, all fittings (one each: 3/8" PVC threaded elbow, straight, and tube-to-tube connector fittings) and tubing for installation.  
Exclusive Micro-Pure® protection reduces particulates as small as 0.5 micron
Reduces chlorine taste and odor
Filter lasts 700 gallons or up to one yearIncludes super chlorination disinfection kit
*Protects against viruses*, bacteria* and water-borne cysts*Not performance Tested or Certified by NSF.
Back to top of page