sku-page
Everpure® ADC Quick Change Full-Timer Cartridge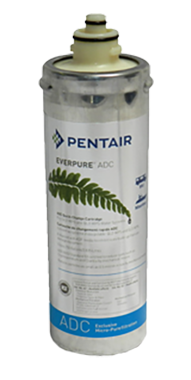 Everpure® ADC Quick Change Full-Timer Cartridge fits QL2/QL3 Everpure Water Treatment Systems. Exclusive Micro-Pure® filter considerably reduces the taste and odor of chlorine, dirt, rust cysts, and asbestos down to 1/2 micron. Replacement is as easy as changing a light bulb. Requires no tools. Tested and certified by NSF. 
Helps make great-tasting tasting coffee, tea, juices and other beverages
Produces cleaner, better tasting iceFilter lasts 700 gallons or up to one year
Reduces chlorine taste and odor
Reduces cysts and asbestos
Yields consistent high-quality water throughout life of cartridge
Treated with bacteriostatic to effectively reduce the growth of bacteria on the filter media.
**Not performance tested or certified by NSF
Back to top of page