Pentair WellMate SP Series
Pentair WellMate SP Series
Pentair WellMate SP Series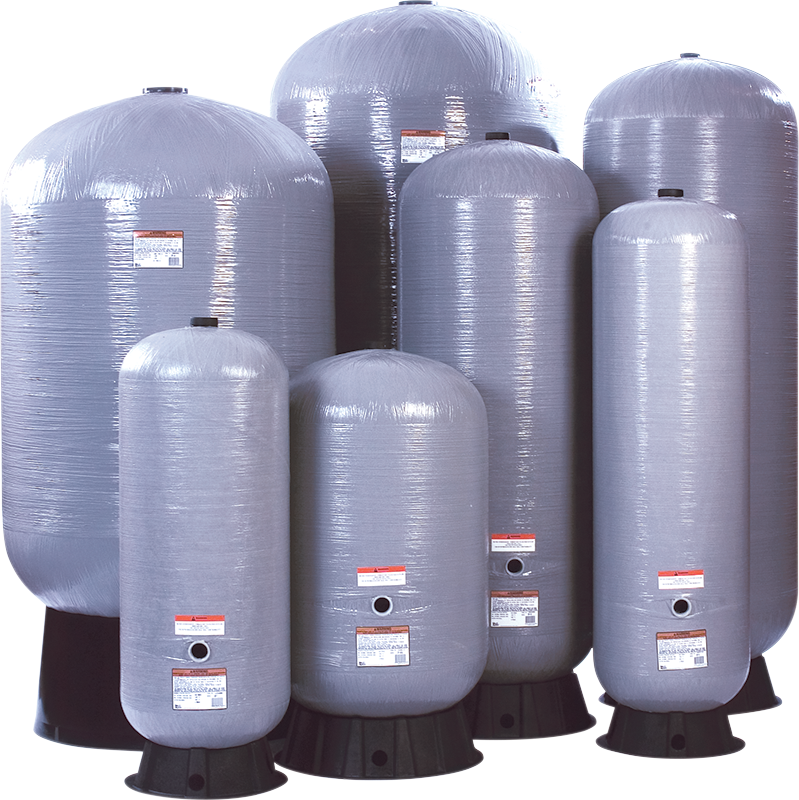 Made of all NSF/ANSI-61 certified material, SidePort "SP" tanks contain no harmful traces of metal (as with steel tanks) that could pass into your water. Our tanks are environmentally safe and 100% lead free. Designed as a direct replacement for galvanized steel and epoxy-lined steel tanks that can save you time and money.
Corrosion-proof composite construction.
UV protection – All SP tanks come with additional urethane coating for years of added protection.
Light weight minimizes labor cost; no need for heavy equipment. No rust or corrosion means no maintenance. Long lasting, durable finish.

Applications where high sulfur content is present and environments where methane or other well gases are present.
SidePort "SP" Features & Benefits
Specifications
| Item # | CAPACITIES | DRAWDOWN IN | DIAMETER INCH CM | OVERALL HEIGHT INCH CM | HEIGHT INLET OUTLET TO FLOOR | HEIGHT SIDEPORT TO FLOOR INCH CM | ASSEMBLY WEIGHT | PALLET QUANTITY |
| --- | --- | --- | --- | --- | --- | --- | --- | --- |
| SP-7 | 30 / 114 | 7 / 26 | 16 / 41 | 43 3/4 / 111 | 1 1/2 / 3.8 | 14 / 35.6 | 26 / 11.8 | 9 |
| SP-9 | 40 / 151 | 9 / 34 | 16 / 41 | 56 1/2 / 144 | 1 1/2 / 3.8 | 15.5 / 39.4 | 35 / 15.9 | 9 |
| SP-9SQ | 47 / 178 | 9 / 34 | 21 / 53 | 41 1/4 / 105 | 2 / 5.1 | 16.9 / 42.9 | 48 / 21.8 | 4 |
| SP-18 | 80 / 303 | 18 / 67 | 21 / 53 | 62 /157 | 2 / 5.1 | 18.3 /46.5 | 67 / 30.5 | 1 |
| SP-26 | 120 /454 | 26 / 98 | 24 / 61 | 7 1/2 / 184 | 2 / 5.1 | 20.2 / 51.3 | 97 / 44.1 | 1 |
| SP-35 | 205 / 776 | 35 / 132 | 36 / 91 | 73 / 185 | 7 / 17.8 | 31.5 /80 | 290 / 131.8 | 1 |
| SP-50 | 264 / 999 | 50 / 189 | 36 / 91 | 82 / 208 | 7 / 17.8 | 31.5 / 80 | 300 / 136.4 | 1 |
| Item # | CAPACITIES | DRAWDOWN IN | DIAMETER INCH CM | OVERALL HEIGHT INCH CM | HEIGHT INLET OUTLET TO FLOOR | HEIGHT SIDEPORT TO FLOOR INCH CM | ASSEMBLY WEIGHT | PALLET QUANTITY |
| --- | --- | --- | --- | --- | --- | --- | --- | --- |
| SP-7 | 30 / 114 | 7 / 26 | 16 / 41 | 43 3/4 / 111 | 1 1/2 / 3.8 | 14 / 35.6 | 26 / 11.8 | 9 |
| SP-9 | 40 / 151 | 9 / 34 | 16 / 41 | 56 1/2 / 144 | 1 1/2 / 3.8 | 15.5 / 39.4 | 35 / 15.9 | 9 |
| SP-9SQ | 47 / 178 | 9 / 34 | 21 / 53 | 41 1/4 / 105 | 2 / 5.1 | 16.9 / 42.9 | 48 / 21.8 | 4 |
| SP-18 | 80 / 303 | 18 / 67 | 21 / 53 | 62 /157 | 2 / 5.1 | 18.3 /46.5 | 67 / 30.5 | 1 |
| SP-26 | 120 /454 | 26 / 98 | 24 / 61 | 7 1/2 / 184 | 2 / 5.1 | 20.2 / 51.3 | 97 / 44.1 | 1 |
| SP-35 | 205 / 776 | 35 / 132 | 36 / 91 | 73 / 185 | 7 / 17.8 | 31.5 /80 | 290 / 131.8 | 1 |
| SP-50 | 264 / 999 | 50 / 189 | 36 / 91 | 82 / 208 | 7 / 17.8 | 31.5 / 80 | 300 / 136.4 | 1 |