Pentair WellMate WM Series Tanks
Pentair WellMate WM Series Tanks
Pentair WellMate WM Series Tanks

Our WM-Series offers features and benefits steel tanks just can't match. From corrosion-proof composite construction, to lighter weight, easier maintenance and less expensive installation, WM-Series pressure tanks are the preferred choice of professionals.

Greater drawdown than comparably sized steel tanks yields greater efficiency.
Quicker and less costly to install, usually requiring only one person and fewer man-hours.
Wider pressure setting differential provides greater flexibility.
Residential, Light Commercial and Pressure Boosting Applications.
WM Series Features & Benefits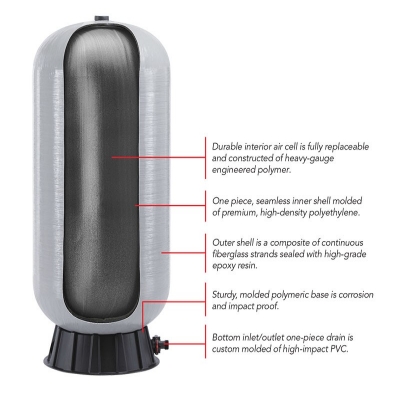 Specifications
| Item # | CAPACITY | MAXIMUM OPERATING PRESSURE | DRAWDOWN IN | DIAMETER INCH CM | OVERALL HEIGHT INCH CM | HEIGHT INLET OUTLET TO FLOOR | CONNECTIONS | ASSEMBLY WEIGHT | PALLET QUANTITY |
| --- | --- | --- | --- | --- | --- | --- | --- | --- | --- |
| WM-4 WM0060 QC | 14.5 / 55 | 125 / 862 / 8.6 | 4.5 / 17.0 | 16 / 41 | 26 / 66 | 1 3/4 / 4.4 | 1" male NPT | 16.9 / 7.6 | 9 |
| WM-6 WM0075 QC | 19.6 / 75 | 125 / 862 / 8.6 | 6.1 / 34.4 | 16 / 41 | 32 / 81 | 1 3/4 / 4.4 | 1" male NPT | 20.85 / 9.5 | 9 |
| WM-9 WM0120 QC | 29.5 / 112 | 125 / 862 / 8.6 | 9.1 / 34.4 | 16 / 41 | 44 / 112 | 1 3/4 / 4.4 | 1" male NPT | 28.80 / 13.0 | 9 |
| WM-12 WM0150 QC | 40.3 | 125 / 862 / 8.6 | 12.5 / 47.3 | 16 / 41 | 57 / 145 | 1 3/4 / 4.4 | 1" male NPT | 35.05 / 15.9 | 9 |
| WM-14WB WM0180 QC | 47.1 / 178 | 125 / 862 / 8.6 | 14.6 / 55.3 | 21 / 53 | 41.3 / 105 | 2 1/4 / 5.7 | 1 1/4" male NPT | 46.27 / 21.0 | 4 |
| WM-20WB WM0235 QC | 60.0 / 227 | 125 / 862 / 8.6 | 24 / 61 | 24 / 61 | 41.5 / 105 | 2 1/4 / 5.7 | 1 1/4" male NPT | 52.87 / 24.0 | 4 |
| WM-23 WM0300 QC | 79.6 / 301 | 125 / 862 / 8.6 | 18.5 / 70.0 | 21 / 53 | 62 / 157 | 2 1/4 / 5.7 | 1 1/4" male NPT | 77.22 / 35.0 | 4 |
| WM-25WB WM0330 QC | 86.7 / 328 | 125 / 862 / 8.6 | 26.8 / 101.5 | 24 / 61 | 55 1/4 / 140 | 2 1/4 / 5.7 | 1 1/4" male NPT | 77.2 / 35.0 | 4 |
| WM-35WB WM0450 QC | 119.7 / 453 | 125 / 862 / 8.6 | 37.0 / 140.1 | 24 / 61 | 74 1/4 / 189 | 2 1/4 / 5.7 | 1 1/4" male NPT | 102 / 46.4 | N/A |
| Item # | CAPACITY | MAXIMUM OPERATING PRESSURE | DRAWDOWN IN | DIAMETER INCH CM | OVERALL HEIGHT INCH CM | HEIGHT INLET OUTLET TO FLOOR | CONNECTIONS | ASSEMBLY WEIGHT | PALLET QUANTITY |
| --- | --- | --- | --- | --- | --- | --- | --- | --- | --- |
| WM-4 WM0060 C | 14.5 / 55 | 125 / 862 / 8.6 | 4.5 / 17.0 | 16 / 41 | 26 / 66 | 1 3/4 / 4.4 | 1" male NPT | 14.5 / 6.6 | 9 |
| Item # | CAPACITY | MAXIMUM OPERATING PRESSURE | DRAWDOWN IN | DIAMETER INCH CM | OVERALL HEIGHT INCH CM | HEIGHT INLET OUTLET TO FLOOR | CONNECTIONS | ASSEMBLY WEIGHT | PALLET QUANTITY |
| --- | --- | --- | --- | --- | --- | --- | --- | --- | --- |
| WM-4 WM0060 QC | 14.5 / 55 | 125 / 862 / 8.6 | 4.5 / 17.0 | 16 / 41 | 26 / 66 | 1 3/4 / 4.4 | 1" male NPT | 16.9 / 7.6 | 9 |
| WM-6 WM0075 QC | 19.6 / 75 | 125 / 862 / 8.6 | 6.1 / 34.4 | 16 / 41 | 32 / 81 | 1 3/4 / 4.4 | 1" male NPT | 20.85 / 9.5 | 9 |
| WM-9 WM0120 QC | 29.5 / 112 | 125 / 862 / 8.6 | 9.1 / 34.4 | 16 / 41 | 44 / 112 | 1 3/4 / 4.4 | 1" male NPT | 28.80 / 13.0 | 9 |
| WM-12 WM0150 QC | 40.3 | 125 / 862 / 8.6 | 12.5 / 47.3 | 16 / 41 | 57 / 145 | 1 3/4 / 4.4 | 1" male NPT | 35.05 / 15.9 | 9 |
| WM-14WB WM0180 QC | 47.1 / 178 | 125 / 862 / 8.6 | 14.6 / 55.3 | 21 / 53 | 41.3 / 105 | 2 1/4 / 5.7 | 1 1/4" male NPT | 46.27 / 21.0 | 4 |
| WM-20WB WM0235 QC | 60.0 / 227 | 125 / 862 / 8.6 | 24 / 61 | 24 / 61 | 41.5 / 105 | 2 1/4 / 5.7 | 1 1/4" male NPT | 52.87 / 24.0 | 4 |
| WM-23 WM0300 QC | 79.6 / 301 | 125 / 862 / 8.6 | 18.5 / 70.0 | 21 / 53 | 62 / 157 | 2 1/4 / 5.7 | 1 1/4" male NPT | 77.22 / 35.0 | 4 |
| WM-25WB WM0330 QC | 86.7 / 328 | 125 / 862 / 8.6 | 26.8 / 101.5 | 24 / 61 | 55 1/4 / 140 | 2 1/4 / 5.7 | 1 1/4" male NPT | 77.2 / 35.0 | 4 |
| WM-35WB WM0450 QC | 119.7 / 453 | 125 / 862 / 8.6 | 37.0 / 140.1 | 24 / 61 | 74 1/4 / 189 | 2 1/4 / 5.7 | 1 1/4" male NPT | 102 / 46.4 | N/A |
| Item # | CAPACITY | MAXIMUM OPERATING PRESSURE | DRAWDOWN IN | DIAMETER INCH CM | OVERALL HEIGHT INCH CM | HEIGHT INLET OUTLET TO FLOOR | CONNECTIONS | ASSEMBLY WEIGHT | PALLET QUANTITY |
| --- | --- | --- | --- | --- | --- | --- | --- | --- | --- |
| WM-4 WM0060 C | 14.5 / 55 | 125 / 862 / 8.6 | 4.5 / 17.0 | 16 / 41 | 26 / 66 | 1 3/4 / 4.4 | 1" male NPT | 14.5 / 6.6 | 9 |
| WM-6 WM0075 C | 19.8 / 75 | 125 / 862 / 8.6 | 6.1 / 34.4 | 16 / 41 | 32 / 81 | 1 3/4 / 4.4 | 1" male NPT | 17.75 / 8.1 | 9 |
| WM-9 WM0120 C | 29.5 / 112 | 125 / 862 / 8.6 | 9.1 / 34.4 | 16 / 41 | 57 / 145 | 1 3/4 / 4.4 | 1" male NPT | 24.75 / 11.2 | 9 |
| WM-12 WM0150 C | 40.3 / 153 | 125 / 862 / 8.6 | 12.5 / 47.3 | 16 / 41 | 57 / 145 | 1 3/4 / 4.4 | 1" male NPT | 65.7 / 298.8 | 9 |
| WM-14WB WM0180 C | 47.1 / 178 | 125 / 862 / 8.6 | 14.6 / 55.3 | 21 / 53 | 41.3 / 105 | 2 1/4 / 5.7 | 1 1/4" male NPT | 50 / 22.7 | 4 |
| WM-20WM WM0235 C | 60.0 / 227 | 125 / 862 / 8.6 | 18.5 / 70.0 | 24 / 61 | 41.5 / 105 | 2 1/4 / 5.7 | 1 1/4" male NPT | 72.75 / 33.0 | 4 |
| WM-23 WM0300 C | 79.6 / 301 | 125 / 862 / 8.6 | 24.6 / 93.1 | 21 / 53 | 62 / 157 | 2 1/4 / 5.7 | 1 1/4" male NPT | 43 / 19.5 | 4 |
| WM-25WB WM0330 C | 86.7 / 328 | 125 / 862 / 8.6 | 26.8 / 101.5 | 24 / 61 | 55 1/4 / 140 | 2 1/4 / 5.7 | 1 1/4" male NPT | 72.75 / 33.0 | 4 |
| WM-35WB WM0450 C | 119.7 / 453 | 125 / 862 / 8.6 | 37.0 / 140.1 | 24 / 61 | 74 1/4 / 189 | 2 1/4 / 5.7 | 1 1/4" male NPT | 102 / 46.4 | N/A |