Pentair WellMate HP Quick Connect Tanks
Pentair WellMate HP Quick Connect Tanks
Pentair WellMate HP Quick Connect Tanks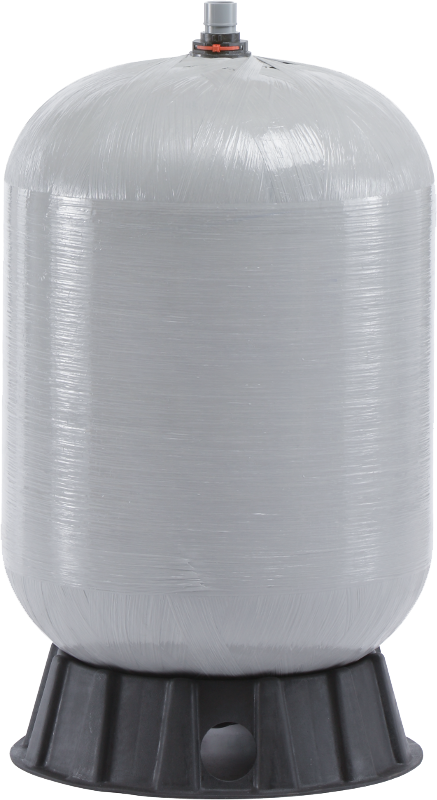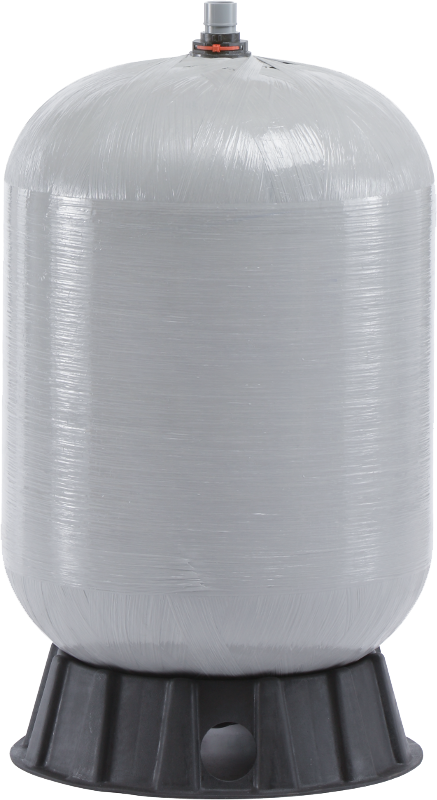 Iron and sulfur removal? Hydrogen sulfide? Methane and other undesirable well gases? You need the high-performance of our HP Quick Connect Series of hydropneumatic tanks. These units can be used for aggressive water, or as an open system where air is introduced to oxidize and aerate.

Large drawdown ratio increases system efficiency.
Adapter and UT Drain Assembly (sold separately) allow you to add 1" riser pipe to increase aeration of water.
Self-Adjusting Air Volume Control enhances system flexibility and ease of installation.

Applications for sulfur and iron water treatment, hypochloride environments and release of methane or other well gases.
HP Quick Connect Features & Benefits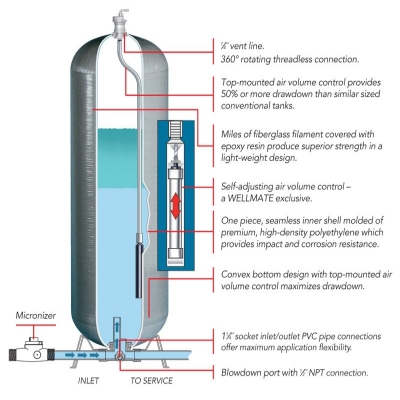 Specifications
MAXIMUM OPERATING PRESSURE:
75 / 500 / 5.0
SYSTEM CONNECTION-TOP:
1/4" vent line NPT
SYSTEM CONNECTION-BOTTOM:
1 1/4" Socket
| Item # | CAPACITY | DRAWDOWN IN | DIAMETER INCH CM | OVERALL HEIGHT INCH CM | HEIGHT INLET OUTLET TO FLOOR | CONNECTIONS | ASSEMBLY WEIGHT | PALLET QUANTITY |
| --- | --- | --- | --- | --- | --- | --- | --- | --- |
| HP-7 WM-HP-110 | 30 / 114 | 6.6 / 25.0 | 16 / 41 | 43 3/4 / 111 | 1 1/2 / 3.8 | Top: 1/4" vent line NPT | 26 / 11.8 | 9 |
| HP-9 WM-HP-150 | 40 / 151 | 9.0 / 34.1 | 16 / 41 | 56 1/2 / 144 | 1 1/2 / 3.8 | Top: 1/4" vent line NPT | 29 /13.2 | 9 |
| HP-8SQ WMP-HP-150-SQ | 40 / 151 | 8.0 / 30.3 | 21 / 53 | 35 1/4 / 90 | 2 / 5.1 | Top: 1/4" vent line NPT | 34 / 15.4 | 4 |
| HP-18 WM-HP-300 | 80 / 303 | 17.8 / 67.4 | 21 / 53 | 62 / 157 | 2 / 5.1 | Top: 1/4" vent line NPT | 44 / 20.0 | N/A |
| HP-26 WM-HP-450 | 120 / 454 | 25.5 /96.5 | 24 / 61 | 72 1/2 / 184 | 2 / 5.1 | Top: 1/4" vent line NPT | 64 / 29.0 | N/A |
| Item # | CAPACITY | DRAWDOWN IN | DIAMETER INCH CM | OVERALL HEIGHT INCH CM | HEIGHT INLET OUTLET TO FLOOR | CONNECTIONS | ASSEMBLY WEIGHT | PALLET QUANTITY |
| --- | --- | --- | --- | --- | --- | --- | --- | --- |
| HP-7 WM-HP-110 | 30 / 114 | 6.6 / 25.0 | 16 / 41 | 43 3/4 / 111 | 1 1/2 / 3.8 | Top: 1/4" vent line NPT | 26 / 11.8 | 9 |
| HP-9 WM-HP-150 | 40 / 151 | 9.0 / 34.1 | 16 / 41 | 56 1/2 / 144 | 1 1/2 / 3.8 | Top: 1/4" vent line NPT | 29 /13.2 | 9 |
| HP-8SQ WMP-HP-150-SQ | 40 / 151 | 8.0 / 30.3 | 21 / 53 | 35 1/4 / 90 | 2 / 5.1 | Top: 1/4" vent line NPT | 34 / 15.4 | 4 |
| HP-18 WM-HP-300 | 80 / 303 | 17.8 / 67.4 | 21 / 53 | 62 / 157 | 2 / 5.1 | Top: 1/4" vent line NPT | 44 / 20.0 | N/A |
| HP-26 WM-HP-450 | 120 / 454 | 25.5 /96.5 | 24 / 61 | 72 1/2 / 184 | 2 / 5.1 | Top: 1/4" vent line NPT | 64 / 29.0 | N/A |