Pentair WellMate UT Series Universal Retention Quick Connect Tanks
Pentair WellMate UT Series Universal Retention Quick Connect Tanks
Pentair WellMate UT Series Universal Retention Quick Connect Tanks


There's no better tank choice for water treatment than our UT Quick Connect Series. Composite construction makes the entire line impervious to the chemicals found in aggressive water. Quick connect technology simplifies installation and change-out.
Multiple plumbing connections available: Brass or plastic, NPT, BSP, glued socket or sweat. Threadless, 360° rotating connection.
Higher Performance – When adapted for hydropneumatic applications, series provides 50% more drawdown than similarly sized conventional tanks.
Light weight minimizes labor cost; no need for heavy equipment.

Contact tanks for water treatment or hydropneumatic applications (with purchased accessories).
UT Quick Connect Series Features & Benefits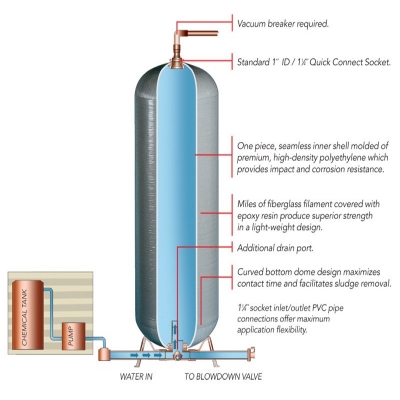 Specifications
MAXIMUM OPERATING PRESSURE:
75 / 500 / 5.0
SYSTEM CONNECTION-TOP:
1 1/4" Socket Q.C.
SYSTEM CONNECTION-BOTTOM:
1 1/4" Socket
| Item # | CAPACITY | DIAMETER INCH CM | OVERALL HEIGHT INCH CM | HEIGHT INLET OUTLET TO FLOOR | ASSEMBLY WEIGHT | PALLET QUANTITY |
| --- | --- | --- | --- | --- | --- | --- |
| UT-30 WM-UT-110 | 30 / 114 | 16 / 41 | 44 1/2 / 113 | 1 1/2 / 3.8 | 25 / 11.3 | 9 |
| UT-40 WM-UT-150 | 40 / 151 | 16 / 41 | 57 1/4 / 145 | 1 1/2 / 3.8 | 28 / 12.7 | 9 |
| UT-40 SQ WM-UT-150-SQ | 40 / 151 | 21 / 53 | 36 / 91 | 2 / 5.1 | 33 / 15.0 | 4 |
| UT-80 WM-UT-300 | 80 / 303 | 21 / 53 | 62 3/4 / 159 | 2 / 5.1 | 43 / 19.5 | N/A |
| UT-120 WM-UT-450 | 120 / 454 | 24 / 61 | 72 1/4 / 186 | 2 / 5.1 | 63 / 28.6 | N/A |
| Item # | CAPACITY | DIAMETER INCH CM | OVERALL HEIGHT INCH CM | HEIGHT INLET OUTLET TO FLOOR | ASSEMBLY WEIGHT | PALLET QUANTITY |
| --- | --- | --- | --- | --- | --- | --- |
| UT-30 WM-UT-110 | 30 / 114 | 16 / 41 | 44 1/2 / 113 | 1 1/2 / 3.8 | 25 / 11.3 | 9 |
| UT-40 WM-UT-150 | 40 / 151 | 16 / 41 | 57 1/4 / 145 | 1 1/2 / 3.8 | 28 / 12.7 | 9 |
| UT-40 SQ WM-UT-150-SQ | 40 / 151 | 21 / 53 | 36 / 91 | 2 / 5.1 | 33 / 15.0 | 4 |
| UT-80 WM-UT-300 | 80 / 303 | 21 / 53 | 62 3/4 / 159 | 2 / 5.1 | 43 / 19.5 | N/A |
| UT-120 WM-UT-450 | 120 / 454 | 24 / 61 | 72 1/4 / 186 | 2 / 5.1 | 63 / 28.6 | N/A |