When you hear the words "trade show," you may picture a dreary, fluorescent-lit hall filled with identical booths as far as the eye can see. But trade shows have evolved.

At Pentair we're committed to putting our customers first, and offering a fully interactive experience, using things like touchscreens, video walls, and scannable QR codes to give customers an opportunity to truly explore our water solutions. And we use live technology presentations by experts on our staff, coupled with service demonstrations, to show how our products work in real time.
But of course, trade shows simply provide a venue to introduce and explore our smart, sustainable solutions. Designed to work for all aspects of our customers' lives — from residential drinking water to commercial and industrial technologies — meaningful innovation is truly our trade.
Having recently wrapped up three big trade shows in the U.S. and Europe, we wanted to take a moment to highlight how our latest technologies bring smart, sustainable water solutions to life.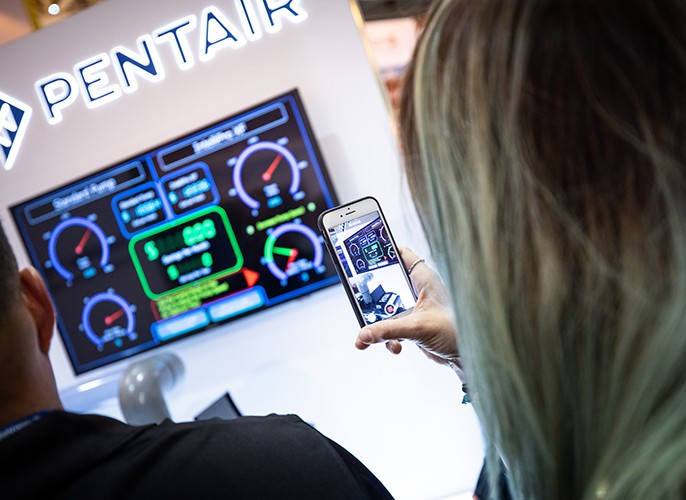 Pentair delivers a fully interactive experience for customers to learn how our latest technologies bring smart, sustainable water solutions to life.

Mobile Apps and Interactivity
Our Commercial IQ™ mobile app is built with commercial pool professionals in mind. Its user-friendly format allows pros to design and calculate accurate specs for pools, plus track and manage multiple projects in one place.

The all-new interactive Pentair Xpert web app, introduced at Aquatech 2019, helps water treatment professionals select the membrane technology and configuration they need to complete projects stress-free. The app contains a conversational interface — the world's first in the membrane filtration industry — which will help select the exact technology and configurations needed for a specific project.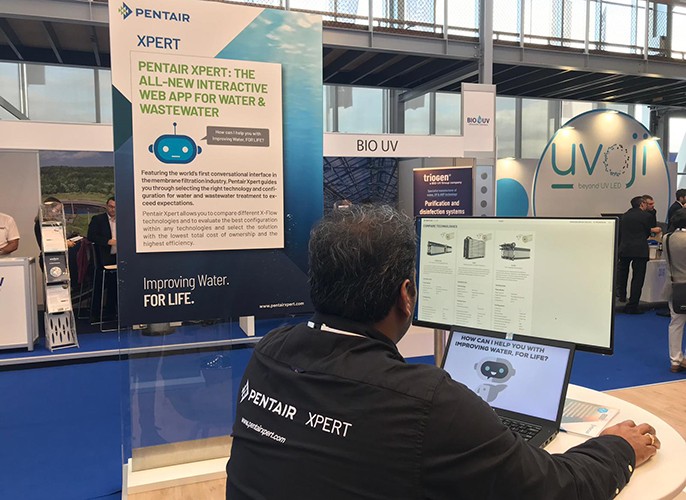 Attendees of the recent Aquatech expo were able to interact with the new Pentair Xpert web app.
Efficiency Everywhere
No one wants to worry about their pool and spa equipment doing its job efficiently. Our WhisperFloXF® Variable Speed pool pumps offer energy-efficient solutions for both residential and commercial pools, winning the "Best New Product" award at the 2019 International Pool | Spa | Patio Expo. This pump adds to our extensive offering of water solutions designed to improve water quality and increase equipment efficiency for pool and spa owners.

And don't forget about our selection of brewing industry products. This year, we introduced customers to our Beer Membrane Filtration BMF SMART Unit at the 2019 BrauBeviale show. The system includes a smart steering controller for non-stop beer flow during the brewing process, leading breweries to achieve a more predictable output. And that helps ensure the beer is produced efficiently while maintaining its great taste.

Pentair showcased its latest smart technologies to help brewers acheive a more predictable output  at BrauBeviale.
Always Looking Forward
Whether it's at a trade show or in your home or business, we always strive to bring you innovative, smart, and sustainable water solutions. As we dive into 2020, we're looking forward to a new decade of innovation — thanks for joining us on our journey!